Manny Pacquiao vs Amir Khan fight in Dubai or Abu Dhabi 'Plan B' option for Filipino boxing legend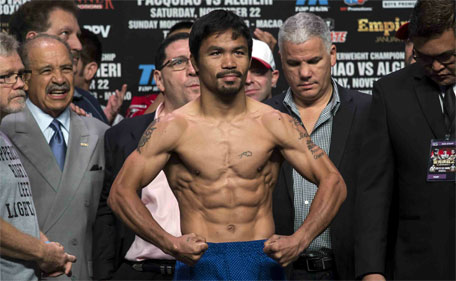 UAE is being considered as a venue for a title fight between Manny Pacquiao and British boxer Amir Khan if the proposed May 2 showdown between Floyd Mayweather and the Filipino ring legend doesn't happen.

Amir Khan has emerged as the top weltweight contender after outclassing American Devon Alexander in December and is emerging as a Plan B option for Pacquiao who has been chasing Mayweather for the last five years.

Khan, 28, wants to take on the best in the sport in the peak of his career and has also been calling out to Mayweather.

The Bolton fighter even issued a five-day deadline which expired on January 16 for Mayweather to agree to fight him while Pacquiao has given the unbeaten American until end of January to sign up.

Pacquiao has relentlessly pursued Mayweather ever since he called out publicly for a May 2 fight in December taunting his rival on social networks.

"I can easily beat @FloydMayweather, I believe that." he tweeted on Tuesday in his boldest challenge yet.

During an interview for his upcoming documentary film title 'Manny', when asked why he believes a deal with Mayweather has not been finalised, Pacquiao said: "I don't know. Maybe he's scared to lose."

The eyes of the boxing world have long been on a showdown between the unbeaten Mayweather (47-0, 26 knockouts) and eight-division world champion Pacquiao (57-5-2, 38 knockouts), two of the greatest boxers of their generation.

But if it doesn't happen, Amir 'King' Khan is emerging as another option for a potential mega fight with the Filipino fight king.

Already a two-time world champion, Khan demonstrated he certainly has the 'fastest pair of hands' and great boxing acumen to shut out his Alexander.

"I really believe I've earned my shot against the best boxer in the world, and that's Floyd Mayweather," said Khan (30-3-19KOs), targeting a bout against Mayweather or Pacquiao after retaining his WBC Silver welterweight title in Las Vegas in December.

"I think I'm getting better with age. I'm better than I was at 26 and now just starting to hit my peak at 28. I worked very hard and put on one of my best performances."

Speaking to BBC Radio 5 live's Sportsweek programme, he added: "This victory puts me in a great position now to fight the biggest names of boxing - the likes of Mayweather and Pacquiao. That's where I belong."

Although Mayweather dismissed his challenge by saying he is not a big enough name for pay-per-view events, Khan proved to be a big draw when he was in holiday in Dubai recently.

Pacquiao's long-time adviser Michael Koncz told BoxingScene.com/Manila Standard/Viva Sports that Amir Khan is the "front-runner" to face 'Pacman' who is "not going to sit around and wait" for Mayweather.

Koncz revealed that Khan offered to fight Pacquiao in Abu Dhabi or England although it would create problems for the pay-per-view audiences in the US and South America because of the time difference which would necessitate staging the fight around 3.00am.

But if the financial offers were good enough to overcome the pay per view losses, then staging the fight in the UAE or Britain would be seriously considered, the report added.

Pacquiao's coach Freddie Roach is endorsing a contest between the Filipino and his former stable mate Khan.

"Me, I like that match... I like how Khan is fighting, I like how his chin is holding up," Hall of Frame Trainer Roach has said in an interview with thesweetscience.com.

A Dubai boxing promoter has been in talks with Bob Arum of Top Rank to get Pacquiao fight in Dubai and was in Las Vegas when Khan outclassed Alexander.

'Prince' Amir Shafypour, Promoter and Managing Director at Golden Cage Promotions and Events, has been on the line with Pacquiao's manager Freddie Roach to make this a reality.

"We are confident of hosting a fight featuring Pacquiao with or without Mayweather," Prince Amir told Emirates 24|7.

Pacquiao vs Khan in Dubai perfectly fits the bill since it would be followed by large community of Filipino and British expatriates in the Middle East.

A UAE investment group earlier upped the stakes in its bid to lure Floyd Mayweather Jr to fight Manny Pacquiao in Abu Dhabi by raising the unbeaten American's already record-setting purse to an unprecented $120 million.

President and chief operating officer of Akbar Productions, LLC of New Jersey, Akbar Muhammad made a formal offer to Mayweather Promotions.

The offer was later withdrawn since there was no response from the Mayweather camp.
Follow Emirates 24|7 on Google News.