Maradona or Pele: Who is the Greatest?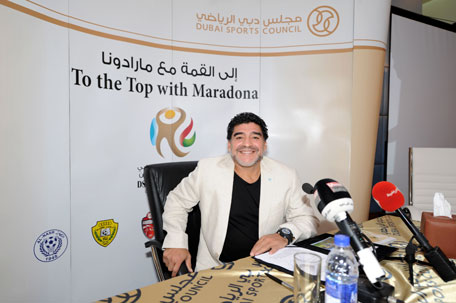 Argentine legend Diego Maradona reignited the debate regarding who is the greatest ever footballer by launching a scathing attack on Brazil great Pele in Dubai on Thursday.

There is no love lost between the two South American footballing icons who were jointly awarded the Fifa Player of the 20th Century title.

Maradona seemed miffed when asked whether he had met Pele who was in Dubai last week just days after being awarded a Ballon d'Or honour in Switzerland.

"How can you say that Pele received the Ballon d'Or before me? I received the award in Paris (in 1996)," said Maradona at a press conference at the Dubai Sports Council office where launched a new grassroots football development programme.

Maradona said Pele would always remains second best in any comparison with El Diego.

"According to me, Pele will always remain second best in football when compared to Maradona. Look at it this way — in his own country, Brazil, Pele is the second best sportsman after Ayrton Senna (the three-time Formula 1 champion).

"Pele will always be second, be it in international football or in Brazilian sports. The sad thing is that he is second best and he will continue to stay in that position."

He also ridiculed the 73 year-old for getting Ronaldo's name wrong when presenting the Fifa World Player of the Year award.

"While presenting the award to Cristiano Ronaldo, Pele uttered his name as 'Cristiano Leonardo'. This just shows where he belongs," said Maradona who congratulated his compatriot Lionel Messi despite being beaten to the award by Ronaldo.

"I am happy with what I am doing for football and for myself. I am content living in a home in Dubai, but Pele lives in Fifa," said Dubai's Sports Ambassador who also spoke passionately about how to develop the sport from the grassroots level.

Aptly titled 'To the top with Maradona', the latest Dubai Sports Council initiative will see the 53-year-old Argentine play a key role in finding young football talent.

The former Al Wasl coach will be visiting the six football academies run by Dubai clubs and interacting with coaches and players.

He urged youngsters to grab the opportunity to learn the fundamentals of the sports while at the same time having fun.

"We didn't have any facilities like this during our time. I found my way through football so that I could help myself and my family and this is a lesson for all. I am confident we can find players who can play the 'UAE way'. All they need is hard work and dedication to pursue their dreams," said Maradona.
Follow Emirates 24|7 on Google News.