McIlroy, Mickelson in confident mood in Abu Dhabi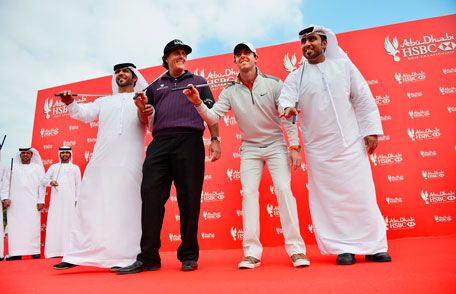 Two of the biggest names in golf today performed an impressive opening act ahead of Thursday's Abu Dhabi HSBC Golf Championship opening when they added a new twist to traditional Emirati Al Razfa dancing.

As the world's top players roll into the UAE capital for the four-day 'Gulf Swing' opener, Rory McIlroy and Phil Mickelson eased themselves into the season by joining a select Emirati dance troupe for an energetic, hair raising prelude to the showpiece event.

Holding aloft their clubs, the pair swayed to the sounds of Emirati drums and chants as they learnt the finer art of Al Razfa - a dance traditionally performed by male warriors who brandish and twirl sticks as they celebrate heroes.

"That was a bit of fun and a great way to get into the rhythm of the season," said McIlroy. "I enjoyed learning the traditional Al Razfa dance and putting my own spin on it. It's harder than it looks – some skilful finger work and balancing is needed here. I suspect it's like golf, practice, practice and practice can make the difference but anything can happen when you have to go out there and perform."

Mickelson, who returns to Abu Dhabi Golf Club for the first time since 2011, enjoyed experiencing a traditional art that has been part of Emirati culture for generations.

"I love learning about different cultures, and although I have been to Abu Dhabi before, this was a chance to really experience and understand the emirate's traditions a little better," said Mickelson. "I thoroughly enjoyed it, and was just glad I could keep pace with the dancers who did a wonderful job in showing us how it's done."

McIlroy and Mickelson headline a stunning line-up of the world's best players, which includes Super Swede and current world number three, Henrik Stenson, as well as Spaniard Sergio Garcia, who surged up the rankings to world number ten after winning the Thailand Golf Championship late last year.

Three-time Abu Dhabi champion Martin Kaymer, who first made a name for himself lifting Abu Dhabi's Falcon Trophy in 2008 and again in 2010 and 2011, along with Italian hotshot and Abu Dhabi Ambassador Matteo Manassero join the fray alongside former world number one, Luke Donald, and Irish charm, Padraig Harrington.

McIlroy and Mickelson start their season at the Abu Dhabi HSBC Golf Championship this week, confident 2014 will be one of their best ever seasons.

That won't be such a tough task for world number seven McIlroy, whose struggles in 2013 are well documented with troubles on and off the golf course.

But world number five Mickelson won three times, including an Open win at Muirfield that he described as the finest achievement of his career so far.

It was with much fanfare in the same city exactly one year ago that McIlroy was announced as a Nike ambassador following a world record sponsorship contract.

But the 24-year-old went on to miss the cut that week, and then did not win any tournament for 11 months before closing the season with a superb come-from-behind win over Adam Scott at the Australian Open.

McIlroy, who got engaged to girlfriend Caroline Wozniacki over the New Year, said all the things happening around him last year caused "instability" in his life, but he is in a "good frame of mind" and looking forward to 2014.

"I'm really looking forward it. I feel like I'm much better prepared heading into the first event of the season than I was last year.

"The swing is in a much better place. I've done some really good work on that, the end of last year, and just in the couple of weeks that I've had here leading into this tournament," said McIlroy.

"There was just loads of stuff going on around me and that didn't let me focus 100 per cent on what I needed to do which was to try to play the best that I could.

"This year is polar opposite. Things are really looking good. I'm in a really good frame of mind. Everything seems to have just fallen into place nicely, and I can just go out there and focus on my golf and try and play it as well as I can."

Mickelson said his confidence stems from the fact that he seems to have finally found a driver that suits his game best.

There have been several tournaments in the past few years where the American has played without any driver in his bag, relying mostly on his three-wood.

"There's one thing that makes me very excited about 2014; and as I look back on 2013, I played some of my best golf and had some huge breakthroughs.

"But I did most of it without a driver," said the five-time Major champion.

"And this year, we have the best driver I've ever hit that lowers my spin rate just like my 3?wood. I drive it longer and straighter with my driver than I did with my 3?wood. It's a whole different weapon in my arsenal now.

"And if I drive the ball well, like I have been in practise and I have been this off-season, heading into this 2014 season, could be the best year of my career for that simple reason."



Follow Emirates 24|7 on Google News.