Meydan Group is Official Sponsor of Alltech FEI World Equestrian Games in Normandy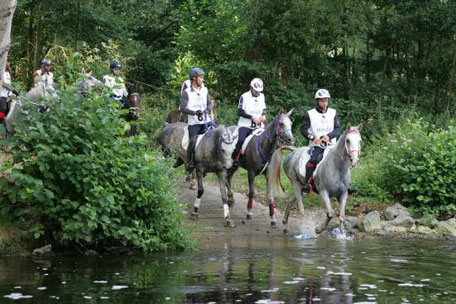 The Meydan Group has become an Official Sponsor of the upcoming Alltech FEI World Equestrian Games™ 2014 to be held from August 23 - September 7 in Normandy, France.

This is another significant step in Meydan's ongoing commitment to equestrian sports around the world.

The agreement continues the relationship established with the 2006 FEI World Equestrian Games™ in Aachen and in 2010 when the Games were held in Lexington, Kentucky (USA).

Malih Lahej Al Basti, Vice-Chairman of Meydan Group, said: "Meydan and the developing Meydan City is the visionary concept of His Highness Sheikh Mohammed bin Rashid Al Maktoum, UAE Vice-President, Prime Minister and Ruler of Dubai and was inspired by the love of the horse and equestrian sports.

"Meydan is home to the world's richest horse race, the Dubai World Cup and we are committed to aiding the development of the equine industry at a global level.

"We are pleased to demonstrate this passion through our role as an Official Sponsor of the Games. This is a prestigious competition that is truly international in its reach. The event provides Meydan with an excellent means to communicate our role in equine sports and highlights our exciting commercial ventures here in Dubai."

The Alltech FEI World Equestrian GamesTM 2014 in Normandy will be held over two weeks (16 days) and is the largest equestrian event in the world, with over 60 nations competing including the UAE and approximately 1,000 athletes with just as many horses.

Eight FEI disciplines will be represented at the Games: Jumping, Dressage, Eventing, Endurance, Driving, Reining, Vaulting and Para-Dressage.

As part of its sponsorship agreement, Meydan will be associated with all eight Official Disciplines, with the 2014 World Endurance Championship named 'Meydan Endurance at the Alltech FEI World Equestrian Games™ 2014'.

This competition will be held on August 28, with the course taking in the bay of the iconic Mont Saint-Michel near Sartilly.

Half a million people are expected to witness the equestrian competitions in each of the disciplines.

Media coverage will be world-wide with an anticipated 1,000 journalists catering to global audiences of hundreds of millions.

Normandy is considered the home of the horse in France. The renowned region is home to a wide range of breeds and the equine sector has become one of the leading economic focuses of the region.

Follow Emirates 24|7 on Google News.