MRMR-1 top standings in NAS Ramadan volleyball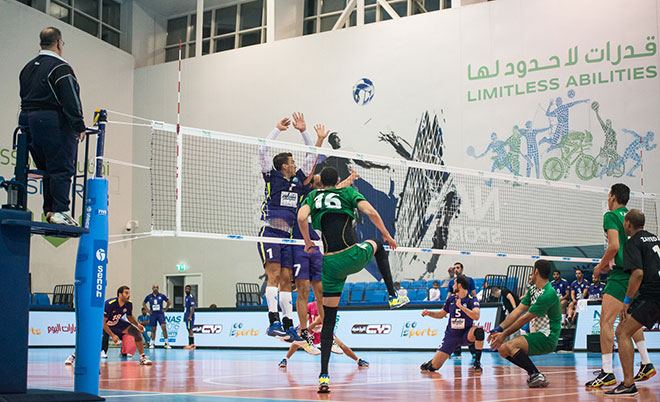 MRMR-1 surged to the top of Group B in the volleyball competition as action concluded on the fourth day of the 4th Nad Al Sheba (NAS) Ramadan Sports Tournament at the NAS Sports Complex on Saturday.
After a tough 3-2 win against Al Zaeem on the second day of the tournament, MRMR-1 once again had to battle with their backs against the wall for a similar result against Zabeel team.
The standout player once again for the winners was Cuba's Ramos Hernandez.
The opening set was close and was eventually decided 30-28 in favour of MRMR-1.
But the Zabeel team came roaring back winning the next two sets 25-22 and 26-24.
Hernandez stepped in to change the complexion of the match as MRMR-1 won a close fourth set 25-23.
Fired up after being tied 2-2, MRMR-1then ran away with the deciding set 15-8 with Hernandez playing a significant role in attack and defence.
"On paper, we are a better side and all we needed to do was to believe in this. After we had won the fourth set there was a lot of belief in the team that we could actually pull away with the win," Hernandez said after the match.
"That fourth set was crucial as the other team had dropped their shoulders and all we needed to do was to keep the pressure on them. Eventually, the pressure did pay off and we won the fifth set quite easily," he added.
In the second match of the night, Surprise team captained by UAE national footballer Khamis Esmail, powered their way to an easy 3-0 (25-18, 25-18, 25-23) win against Al Zaeem.
Meanwhile, Sheikh Saeed Al Maktoum, the President of the UAE Padel Association (UAE PA) teamed up with Javier Lopez Garcia to help his Uncle Saeed team cruise to an easy 2-0 win against the G-Team.
The Uncle Saeed team will now meet Valencia in the teams competition semi-finals.
In the men's open category, Mohammed Al Mansoori and Xavier Masson tasted success after they beat Juan Reyna and Jon Garabieta 6-3, 6-0 in their Group B encounter.
The winners have one last preliminary round match remaining before the best two pairs from each group advance to the semi-finals.
The archery competition also got under way with the best 18 archers qualifying in the Recurve and Compound categories.
Leading the Compound category was Jos Versteegen from The Netherlands with a total of 281 leaving Egypt's Amr Ghanem (280) and Lebanon's Wissam Torbay (278) in the next two spots.
In the Recurve category, the UAE's Obaid Al Hammadi was at the top of the standings with a total of 277, leaving Mike Andrews of Australia and Nada Mamdouh of Egypt tied for second place with an identical 262.
Results
Padel:
(Teams competition) Uncle Saeed bt G-Team 2-0
(Men's Open competition) Mohammed Al Mansoori/Xavier Masson bt Juan Reyna/Jon Garabieta 6-3, 6-0
Volleyball:
MRMR-1 bt Zabeel Team 3-2 (30-28, 22-25, 24-26, 25-23, 15-8)
Surprise bt Al Zaeem 3-0 (25-18, 25-18, 25-23)
Archery:
Recurve category: 1. Obaid Al Hammadi (277); Mike Andrews (262); 3. Nada Mamdouh (262); 4. Solomon Thomas (259); 5. Mohammed Al Beloushi (258)
Compound category: 1. Jos Versteegen (281); 2. Amr Ghanem (280); 3. Wissam Torbay (278); 4. Maral Chreiki (276); 5. Sami Awad Ibrahim (275).
Follow Emirates 24|7 on Google News.