NAS Ramadan Sports: Fohood Zabeel, MRMR-2 qualify for volleyball semis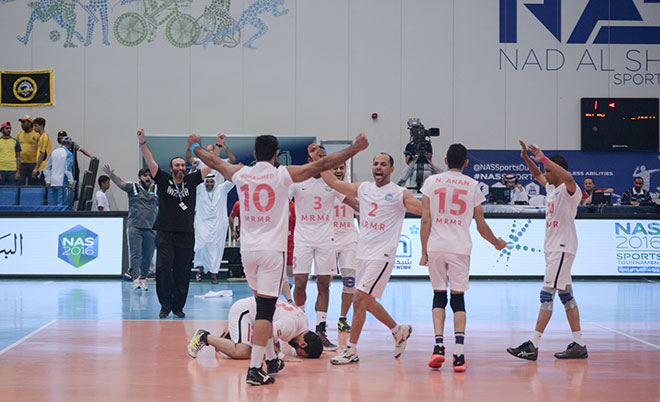 Fohood Zabeel and MRMR-2 qualified to the semi-finals from Group A in the volleyball competition at the 4th Nad Al Sheba (NAS) Ramadan Sports Tournament on Sunday.
In the last preliminary round matches at the NAS Sports Complex, Fohood Zabeel recovered from two sets down for a 3-2 (21-25, 25-27, 25-18, 25-16, 15-7) win against MRMR-2, while Quattro Centre defeated Tornado 3-0 (27-25, 25-19, 25-18), after both matches had turned out into dead rubbers.
Fohood Zabeel finished with seven points, while MRMR-2 ended with six points, one better than Quattro Centre who had five points and Al Aseefa (Tornado) who finished their campaign with zero points.
In Group B, MRMR-1 and Zabeel are tied for the top spot with four points each, while the Khamis Esmail-led Surprise team is with three points and Al Zaeem is at the bottom of the group with one point.
Archery
In the archery competition, Solomon Thomas of India is scheduled to take on Nada Mamdouh of Egypt in the final of the Recurve Open category, while Abdul Aziz Al Rodhan of Saudi Arabia faces Lebanon's Wissam Torbay for top honours in the Compound Open category.
In the Compound Open semi-final matches held at the Nas Sports Complex late on Sunday, Al Rodhan defeated Maral Chreiki of Syria 148-141, while Torbay beat Amr Ghanem of Egypt 139-137.
In the Recurve Open semi-finals, Thomas got the better of the UAE's Obaid Al Suwaidi 6-2, while young Mamdouh defeated Portugal's Santos 6-2 to set up the title clash.
The medal contenders in the Recurve Cadets in the boys and girls under-17 were also decided late on Sunday.
Noora Haroon will take on Maitha Abdullah in the final of the girls category, while Ghalia Bader will take on Fatima Mohammed for the bronze medal.
In the boys section, Mohammed Ateeq will face Ahmed Hamad for the gold medal while Saud Rashid and Ali Ateeq tussle for the third place.
In the padel competition, the SHM team led by Javier Molina and Omar Al Marzouqi advanced to the semi-finals in the team competition with an easy 2-0 win over Marc Ruiviejo Cirera's Lord Commanders.
The SHM team will meet the winners of the last group match between M5 and Abdullah Al Maktoum team.
Results
(Padel)
Men's Open: Guillermo Villafane/Benjamin Cassaigne bt Juan de Dios/Dennis Van Leeuwen 6-1, 6-3; Mohammed Ahli/Abdullah Ahli bt Ramon Perez Goicoechea/Patrick Chucri 6-4, 6-3.
Team: SHM team bt Lord Commanders 2-0.
(Volleyball)
Quattro Centre bt Al Aseefa (Tornado) 3-0 (27-25, 25-19, 25-18); MRMR-2 bt Fohood Zabeel 3-2 (21-25, 25-27, 25-18, 25-16, 15-7)
(Archery)
Compound Open semi-finals: Abdul Aziz Al Rodhan (Saudi Arabia) bt Maral Chreiki (Syria) 148-141; Wissam Torbay (Lebanon) bt Amr Ghanem (Egypt) 139-137.
Recurve Open semi-finals: Solomon Thomas (India) bt Obaid Al Suwaidi (UAE) 6-2; Nada Mamdouh (Egypt) bt Pedro Santos (Portugal) 6-2.
Recurve Cadets U-17 UAE Boys: Mohammed Ateeq bt Saud Rashid 6-5; Ahmed Hamad bt Ali Ateeq 6-5. Recurve Cadets U-17 Girls: Noora Haroon bt Ghalia Bader 7-3; Maitha Abdullah bt Fatima Mohammed 6-4.
(Wheelchair Basketball)
Public Prosecution bt Dubai Club for Special Sports 'A' 88-20
Dewa bt Dubai Police 64-34; Al Fursan bt Dubai Police 96-31; Dubai Club for Special Sports 'B' bt Dubai Club for Special Sports 'A' 40-15
Follow Emirates 24|7 on Google News.