Pakistan keen to build on roaring PSL success in UAE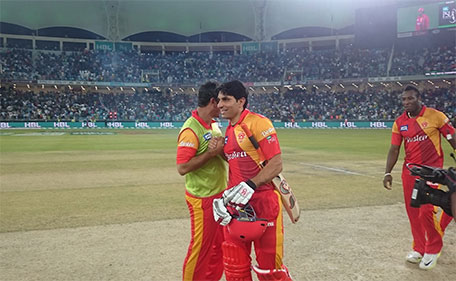 Pakistan's inaugural national cricket league has been an unexpected success, even though all the matches have been played in the United Arab Emirates due to security risks.
Since the Pakistan Super League (PSL) was announced last September, the country's cricket board has sold five franchises for $93 million and attracted players from 11 different countries.
They include big names like West Indies batsman Chris Gayle and former internationals Kumar Sangakkara of Sri Lanka and England's Kevin Pietersen.
The biggest surprise, however, has been the response from Pakistan's public.
Since matches began in the UAE on Feb. 4, national television viewing figures have been higher than for the 2015 World Cup, with 55 percent of Pakistan's TV-watching public tuning into the tournament at peak times.
Tuesday's championship match between Islamabad United and Quetta Gladiators in Dubai was sold out. Islamabad won the game by six wickets.
"Big businesses have bought the franchises, millions of people have tuned in even though the matches aren't in Pakistan, and our own young cricketers are getting a chance to rub shoulders with giants," PSL chairman Najam Sethi told Reuters.
"This is the most extraordinary moment for Pakistani cricket since we were exiled from the international game."
HOME SOIL
It is still unclear when the PSL will be able to stage its first match on home soil.
Pakistan has been forced to play designated 'home' matches primarily in the United Arab Emirates since 2009 when the Sri Lankan team was ambushed by Taliban militants while travelling from their hotel to Lahore's Gaddafi stadium for a test match.
The attack killed six policemen and a van driver while some players and a local umpire were wounded.
Many see PSL as a turning-point, not just for the country's cash-strapped cricket board but also for young cricketers who have missed out on opportunities to interact with and learn from leading international players.
Habib Bank Limited, the country's biggest bank, is the PSL's title sponsor while Haier Group, a major electronics and home appliances company, and Qatar Oil have bought franchises.
If all goes according to plan, PSL will generate revenues of approximately $50 million, according to cricket board estimates. A 10-year forecast sees the board making profits of $50-60 million.
Given the size of Pakistan's potential market of 180 million people, cricket experts say it is possible to imagine the PSL becoming one of the world's biggest cricket leagues.
"It would not be outlandish to say that PSL could soon be the world's third largest league," Osman Samiuddin, author of The Unquiet Ones: A History of Pakistan Cricket, said, comparing PSL to the Indian and Australian domestic leagues.
"Looking at how successful this season has been, how much the public has enjoyed it, and the fact that it has generated a real revenue stream for the cricket board, I would say it's possible."
Despite the success of PSL's first season, the real test for the cricket board will be if it can permanently bring the game back home.
Pakistan Cricket Board officials said before the season that the ruling body approached over a hundred cricketers to ask them if they would be willing to play on Pakistani soil. Not one of them agreed.
"Next year, we hope to have at least the opening and closing PSL matches on Pakistani soil," PSL Chairman Sethi said. "That is the dream."
Follow Emirates 24|7 on Google News.