Pakistan's Ajmal targets World T20 return during PSL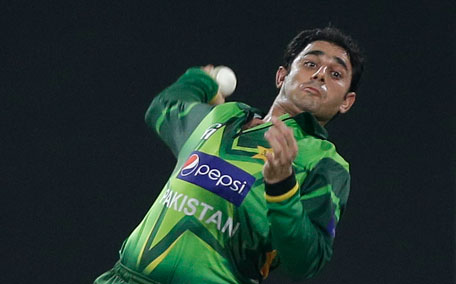 Pakistan's discarded off-spinner Saaed Ajmal says he is hopeful of proving his form in a forthcoming domestic league as he targets a return to national colours in the World Twenty20 this March.
The 38-year-old, whose accuracy and deceptive doosra helped drive his team to victory in the 2009 edition, has struggled to make an impact since coming back last February from a five-month ban for chucking.
He took just one wicket in two ODIs when he last played, against Bangladesh, in April, and a paltry 16 wickets at 55 apiece for his English county side Worcestershire.
But speaking on the sidelines of a launch event for Islamabad United, one of five teams taking part in the Pakistan Super League (PSL) to be held in the UAE this month, Ajmal said he had worked on technical flaws and rediscovered his old menace.
"I've gotten a good platform and working on my goals. You are going to see the Saeed Ajmal of old," he said.
"The World Cup is after this. and I want to perform well and make myself available for the team."
Ajmal, who was picked as a last minute 'supplementary player' by the capital's team, pointed to better showings in Bangladesh's T20 league last November as proof the magic had not deserted him.
Before being suspended in September 2014 for exceeding the 15-degree elbow flex limit set by the International Cricket Council, Ajmal was ranked the world's number one bowler in ODIs and was almost as impressive in Tests. He famously captured 24 wickets in three Tests against England in 2012.
"When I made my comeback against Bangladesh I was lacking match practice," he said. "I needed some time. Now I've had some time and I've been able to work on myself. I've got my variation back and you will see the results in the PSL.
"There were several issues. My arm was falling off too much to the side and I've worked on that and straightened it up. I've worked on my main ball and my doosra as well as my arm ball.
"The variation I got from the revolutions I'd put on the ball in the air - I've got that back and you're going to enjoy watching it."
Despite his optimism, it is unclear how much opportunity Ajmal will get to play as he competes for a place against teammate Samuel Badree, the West Indian leg spinner who is currently the world's number one Twenty20 bowler.
But with Pakistan's favoured slow bowler, leg spinner Yasir Shah, currently suspended for a doping offence, the door could remain ajar for an improbable comeback.
Follow Emirates 24|7 on Google News.