PSL T20 'a victory for people of Pakistan'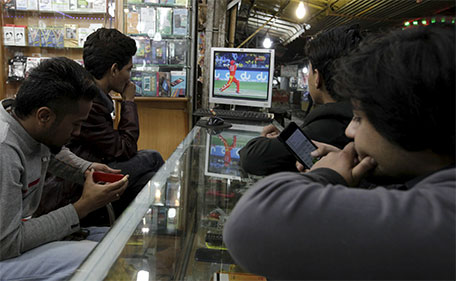 The Pakistan Cricket Board received an overwhelming response from millions of cricket-starved fans, even if it didn't succeed in spotting a new fast bowler or unearth a new batting star in its inaugural professional Twenty20 league in the United Arab Emirates.
Islamabad United, led by Pakistan test captain Misbah-ul-Haq, defeated Quetta Gladiators by six wickets at a packed Dubai International Cricket Stadium late Tuesday to conclude a three-week Pakistan Super League.
Millions of fans stayed tuned in across Pakistan until after midnight throughout the tournament, which also featured teams including Pakistan Twenty20 captain Shahid Afridi's Peshawar Zalmi, Pakistan all-rounder Shoaib Malik-led Karachi Kings and Pakistan ODI captain Azhar Ali's Lahore Qalandars.
"It's our own league, I haven't missed a single ball of it," said Yousuf Mustafa, a 19-year-old college student in Islamabad. "PSL is more than a World Cup to me, I wished it could have been played in Pakistan."
An attack on the Sri Lankan team's bus in 2009 at Lahore shut the doors on test nations touring Pakistan before Zimbabwe broke the deadlock by playing a limited-overs series - also in Lahore - last year.
Convincing foreign players from other major cricket countries like Australia, England, New Zealand, West Indies and South Africa to tour Pakistan was almost impossible, so the PCB finally decided to host the PSL on neutral venue in the UAE.
Chris Gayle, Kevin Pietersen, Shane Watson, Luke Wright and Andre Russell were among the 29 foreign players who signed up for the five franchises. Cricket greats Viv Richards and Wasim Akram were associated as mentors for Gladiators and United respectively and played pivotal roles in guiding their teams to the final.
"Today it's the victory of people of Pakistan - nobody has lost, its victory for everyone," PSL chairman Najam Sethi said during the prize ceremony.
Sethi, who is also one of the PCB's governing board members, initiated the idea of staging the PSL along similar lines to lucrative Indian Premier League, Big Bash in Australia and Bangladesh Premier League.
After twice postponing the PSL, late last year Sethi finally managed to kick off the league by selling the five franchises for $93 million over a period of 10 years.
"The league has been a success and there are good chances some of the franchises will go close to the break even after the first edition. The PCB is also very close to breaking even," he said.
United was rewarded with three of its unheralded players - Mohammad Sami, Sharjeel Khan and Khalid Latif - were drafted into Pakistan's squad for next month's World Twenty20 in India.
Gladiators' uncapped left-arm spinner Mohammad Nawaz has also been labelled as one of the players to watch out on spin-friendly wickets in India.
"You can see lots of youngsters coming up ... they are getting more chances to harness their skills and handle the pressure. That's what IPL did for India, that's what BPL did for Bangladesh," Misbah said.
Sethi said he had spoken with Pietersen about convincing player associations across the world to send cricketers to Pakistan for the second of the PSL.
"I promise you the way we have done the hard work, hopefully we will bring this league in Pakistan too," Sethi said.
Misbah said foreign players got a mild taste of what it would be like to play in a Pakistan competition during their three-week stay in the United Arab Emirates, and hoped it will help bring international cricket back to Pakistan.
"This is one way you can build confidence of players coming from Australia, England, West Indies and Bangladesh," he said. "When you get confidence and know from other players that Pakistan is a safer country, it will be possible for the Pakistan Cricket Board to bring back international cricket to Pakistan."
Follow Emirates 24|7 on Google News.