PSL T20: Lahore Qalandars out, Karachi Kings through to Playoffs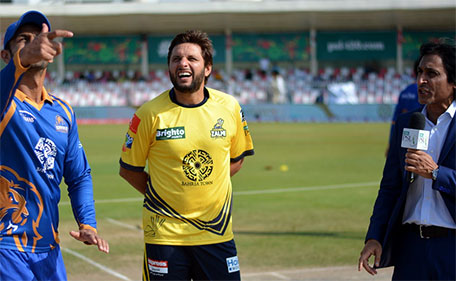 Lahore Qalandars will be the team missing out in the playoffs of the inaugural PSL after suffering a five-wicket loss while Karachi Kings go through despite losing to Peshawar Zalmi.
Chasing a target of 151, Brad Haddin's 54 laid the foundation for United's victory while Misbah hit an unbeaten 38 to steer his side home.
Misbah hits the winning boundary off Mendis as Islamabad United win by five wickets with an over to spare.
Mahmood cracks Mendis through the off for a couple of boundaries as United race to victory.
Misbah whips Bravo to fine leg for a boundary. United 136-5, 18 overs.
Adil traps Latif leg before. United 126-5, 16.2 overs.
Asif Ali lbw b Ehsan Adil 3 (6b)
Misbah is on fire hammering three consecutive boundaries off Zia who runs out Haddin with a direct hit after mix-up. United 119-4, 15 overs.
Brad Haddin run out 54 (42b 5x4 2x6)
Misbah is turning it on sweeping Azhar to fine leg fence. United 107-3, 14 overs.
Latif is run out after a terrible mix-up with his partner. United 93-3, 12.3 overs.
Sharjeel Khan c Rizwan b Zia-ul-Haq 5 (7b)
Haddin is turning it on hoisting Bravo to long-on and cutting past backward point for a boundary. United 79-2, 9 overs.
Haddin slaps Zia for a six over extra cover at the end of Powerplay. United 48-2, 6 overs.
Haddin top edges a bouncer from Zia over the keeper for a boundary followed by a crunching cover drive. United 32-2, 4 overs.
Rizwan takes a skier after Sharjeel top edges a pull shot. United 24-2, 3.2 overs.
Sharjeel Khan c Rizwan b Zia-ul-Haq 5 (7b)
Zia removes the dangerous Smith who nicks one behind after slamming another boundary. United 13-0, 1.2 overs.
Smith cracks Adil through point as United begin chasing 151.
Lahore innings
Lahore Qalandars recovered from a disastrous start to post a competitive 150-5 thanks to fighting half centuries from Sohaib Maqsood (57) and Akmal (72 not out).
Umar whacks the last ball from Raees for a six as Lahore finish on 150-5.
Bravo belts Mahmood over square leg for a six and Akmal a boundary. Qalan 135-4, 19 overs.
Akmal sends Raess sailing over midwicket for a six before edging past the keeper for a boundary to complete another PSL half century. Qalan 120-4, 18 overs.
Irfan gets the breakthrough after Maqsood launches a counter attack slamming a six and boundary before holing out. Qalan 103-4, 16 overs.
Sohaib Maqsood c Asif Ali b Irfan 57 (44b 5x4 2x6)
Maqsood attacks slamming a six and boundary off Mahmood. Qalan 28-3, 6 overs.
Lahore are tottering as Irfan strikes again with Riwan going for a duck. Qalan 6-3, 2.4 overs.
Mohammad Rizwan c Khalid Latif b Irfan 0 (7b)
Another goes down as Delport departs in similar fashion to his captain off Raees. Qalan 4-2, 1.2 overs.
Cameron Delport c Mahmood b Raees 1 (3b)
Irfan draws first blood as Azhar edges straight to the slip fielder. Qalan 4-1, 1 over.
Azhar Ali c Mahmood b Irfan 1 (5b)
Islamabad United have won the toss and put Lahore Qalandars into bat in Match 20 of PSL at Dubai International Stadium on Wednesday.
Islamabad United: Sharjeel Khan, DR Smith, Khalid Latif, Asif Ali, Misbah-ul-Haq, BJ Haddin, Azhar Mahmood, Saeed Ajmal, Ashar Zaidi, Rumman Raees, Mohammad Irfan, Kamran Ghulam, Amad Butt, S Badree, Umar Amin, Mohammad Sami, AD Russell, Imran Khalid
Lahore Qalandars: Azhar Ali, CS Delport, Sohaib Maqsood, DJ Bravo, Mohammad Rizwan, Umar Akmal, KK Cooper, BAW Mendis, Ehsan Adil, Adnan Rasool, Zia-ul-Haq, Naved Yasin, CH Gayle, Abdul Razzaq, Zohaib Khan, Zafar Gohar, Hammad Azam

Zalmi win
A spectacular unbeaten half century by veteran Brad Hodge who smashed six sixes and six boundaries in his 45-ball 85 helped Peshawar Zalmi defeat Karachi Kings by five wickets in Match 19 of PSL in Dubai on Wednesday.
Chasing a target of 153, Zalmi stumbled to 121-5 and were behind the Duckworth Lewis par score with rain cloud threatening when Hodge walked into the middle.
It rained sixes thereafter as Zalmi galloped to victory making 158-5 in 18.3 overs.
Sammy smashes Sohail Khan for the winning six as Zalmi win by five wickets with nine balls to spare.
It's raining sixes in Dubai from the blade of Hode as Zalmi are galloping towards the target. Zalmi 151-5, 18 overs.
Hodge has smashed Amir over extra cover for a six. Zalmi 135-5, 17 overs.
Hodge goes berserk hammering three consecutive sixes off Usama before Karman is run out. Zalmi 121-5, 16 overs.
Kamran Akmal run out 8 (9b 1x4)
Kamran smacks Amir over the bowler's head for a boundary. Zalmi 98-4, 15 overs.
Hodge slams two consecutive boundaries off MIr. Zalmi 80-4, 13 overs.
Afridi is adjudged leg before and is clearly not a happy man complaining about the light or something with a thunderstorm hovering over Dubai. Zalmi 69-5, 11.4 overs.
Shahid Afridi lbw b Bilawal Bhatti 5 (5b)
Mir strikes trapping Allenby leg before. Zalmi 58-3, 10.2 overs.
J Allenby lbw b Usama Mir 31 (29b 4x4)
Allenby paddle sweeps Umar to backward square fence. Zalmi 54-2, 9 overs.
Allenby sweeps Shakib beautifully to the square leg fence for a boundary. Zalmi 32-2, 6 overs.
Bhatti strikes after being hit for a couple of boundaries as Malan offers a skier. Zalmi 25-2, 4.4 overs.
Dawid Malan c Saifullah Bangash b Bilawal Bhatti 8 (11b 1x4)
Amir draws first blood as Hafeez has no control over a pull only to give a skier. Zalmi 4-1, 1 over.
Mohammad Hafeez c Wessels b Amir 4 (6b 1x4)
Hafeez welcomes back Amir by cracking him through point as Zalmi begin chasing 153.
Karachi innings
Karachi Kings have been restricted to 152-7 after electing to bat first with Simmons top scoring with 49.
Sammy gets rid of Sohail with a direct him. Kings 147-7, 19.1 overs.
Sohail Khan run out 7 (5b 1x6)
Imran Khan jr takes a super return catch to dismiss Bopara. Kings 134-6, 18.1 overs.
Ravi Bopara c & b Imran Khan 23 (22b 2x4)
Shakib perishes miscuing a pull shot. Kings 127-5, 17.1 overs.
Shakib Al Hasan c Abdur Rehman b Sammy 11 (12b)
Yamin strikes in the first ball after the interval. Kings 97-4, 13.1 overs.
Shoaib Malik c Imran Khan b Aamer Yamin 15 (14b)
Afridi strikes as Simmons cuts the ball onto his stumps after having hit a boundary with a similar shot earlier. Kings 83-3, 10.4 overs.
Lendl Simmons b Afridi 49 (37b 6x4 2x6)
Simmons sizzles with a towering straight six off Rehman. Kings 74-2, 10 overs.
Simmons goes down on his knees and slog sweeps Afridi for a massive six. Kings 66-2, 9 overs.
Wessels is out to a hairline decision. Kings 53-2, 7.4 overs.
M Wessels run out 3 (6b)
Hasan Ali gets rid of Hasan after being hammered for a boundary and six. Kings 41-1, 5.5 overs.
Shahzaib Hasan c Kamran Akmal b Hasan Ali 18 (17b 1x4 1x6)
Simmons gets a streaky boundary off an inside edge to fine leg. Kings 13-0, 2 overs.
Yamin begins with a no-ball and Simmons slaps a short delivery down the ground for a boundary. Kings 6-0, 1 over.
Karachi won the toss and elected to bat in Match 19 of PSL at Dubai International Stadium on Wednesday.
Kings need a win to go through to the playoffs.
Karachi Kings: JM Vince, Shahzaib Hasan, Imad Wasim, RS Bopara, Mushfiqur Rahim, Shoaib Malik, Shakib Al Hasan, Mohammad Amir, Usama Mir, Sohail Khan, Mir Hamza, LMP Simmons, Iftikhar Ahmed, Bilawal Bhatti, Fawad Alam, Sohail Tanvir, Nauman Anwar, Saifullah Bangash
Peshawar Zalmi: Mohammad Hafeez, DJ Malan, Kamran Akmal, BJ Hodge, Shahid Yousuf, Shahid Afridi, DJG Sammy, Wahab Riaz, Junaid Khan, Mohammad Asghar, SW Tait, Tamim Iqbal, Hasan Ali, Israrullah, Musadiq Ahmed, J Allenby, Aamer Yamin, Abdur Rehman
Follow Emirates 24|7 on Google News.