PSL umpires report West Indian Cooper for bowling action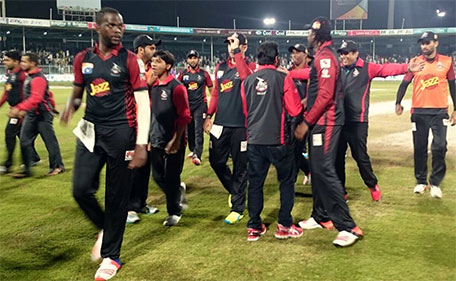 West Indian allrounder Kevon Cooper was Wednesday reported for a suspect bowling action in the ongoing Pakistan Super League in Dubai, the first instance of this kind in the Twenty20 league.
The 27-year-old, who has yet to play international cricket for the West Indies but had featured in first class cricket for his native Trinidad and Tobago, was reported during Tuesday's game between Lahore and Quetta in Dubai.
The Pakistan Super League (PSL) release said Cooper had been put on a warning list for the moment.
"Lahore bowler Cooper has been reported for suspect action by match officials," said a PSL release.
"Under the PSL Suspected Illegal Bowling Action policy, if a player is reported while on the warning list, the player shall be suspended from bowling for the remainder of the PSL tournament and from bowling in any matches organized by the PCB until such date as he is cleared or upon conclusion of any ineligibility period," said the release.
"A player suspended from bowling may continue to be selected to play in matches, however, he will not be entitled to bowl.
"If suspended under the PSL Suspected Illegal Bowling Action policy, Mr. Cooper will have to go through the rehab process made applicable by the West Indies Cricket Board."
Cooper was also reported for a suspect action during the Indian Premier League in May 2014 but was later cleared to play.
In June 2014 the International Cricket Council launched a crackdown on chuckers and some two dozen bowlers from international teams were reported.
Of the reported bowlers Pakistan's Mohammad Hafeez was banned for 12 months in July last year after he was reported for a suspect action twice in a period of one year.
Follow Emirates 24|7 on Google News.