Second stage of UAE School Olympics launched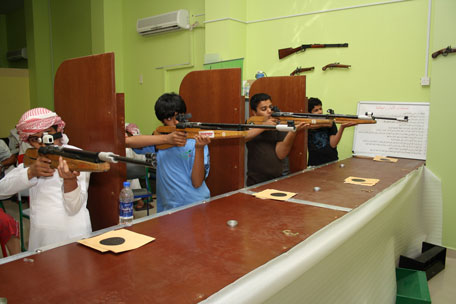 The second stage of qualifying for the 2nd UAE School Olympics was launched at the Ministry of Education earlier this week.

Attended by Abdul Rahman Al Owais, Minister of Health, Humaid Mohammed Al Qatami, Minister of Education, Sheikh Hasher Al Maktoum, UAE Olympic champion shooter, and Mohammed Al Kamali, Secretary General, UAE National Olympic Committee (UAE NOC) the second and third stages of qualifying will be held throughout March.

The finals of the competitions will be held at the Dubai Police Officers Club from May 5 to 8.

In a related development the official opening of the 111 training centres for school children throughout the country will be held between February 10 and 13.

"The UAE School Olympics is not just about organising sports, but also about education teachers, parents and children in a particular way of life," Al Qahtami said during the meeting.

"We must exert all our energies in making the UAE School Olympics a unique concept that will bring forward young talent that can be trained and nurtured to bring glory to the UAE in the future," he added.

As per figures released by the Ministry of Education, 181,000 students from schools all over the UAE were involved in the first stage of qualifying earlier this year.

The second stage will see 8,000 children competing across the country, and this will be further cut down to 2,800, of which only 1,116 will take part in the final stage in May.

"With the strong support we have from our leaders and the government, I doubt there is any excuse left for us to say we cannot produce champions in the UAE," remarked Sheikh Ahmed.

"The chairman of the UAE National Olympic Committee Sheikh Ahmed bin Mohammed Al Maktoum and Sheikh Hamdan bin Mohammed Al Maktoum, Crown Prince of Dubai and Chairman of Dubai Sports Council have been clear in their vision when they told us that we need to cultivate a culture of sport in the minds of the young ones so that they learn the sport of our forefathers. We will never be able to give any excuses in the future," he added.

Mohammed Al Kamali was pleased with the way the UAE School Olympics had shaped up.

"We had our challenges last year and we have learnt in a positive manner. I have no doubt that this edition will bring forth champions who will go on to represent the UAE in the future. It may take a little time, but we are confident we can have champions from these children," Mohammed Al Kamali said.


Follow Emirates 24|7 on Google News.