Spanish starlet Muguruza aims to bounce back in Dubai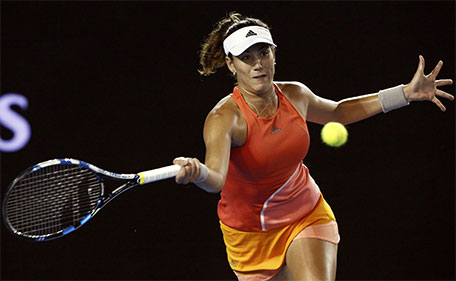 Spanish sensation and current world number three Garbiñe Muguruza is set to make a second bid for the coveted Dubai Duty Free Tennis Championships trophy next month.
A year ago the talented newcomer offered a strong indication of what was to come when she defeated former world number one Jelena Jankovic and 2012 Dubai champion Agnieszka Radwanska on her way to the semi-finals, before losing to Karolina Pliskova but battled for almost three hours before going down 6-4 5-7 7-5.
Following her shock third round exit from the Australian Open, Muguruza will be keen to regain the consistency which saw her progress all the way to the Wimbledon final last year.
Her composed and confident performance there made her an instant fan favourite and resulted in the victorious Serena Williams saying that she would be a champion there in the future.
"It's good when you hear something like this from a legend," said Muguruza after the final. "Hopefully I can do it, I was close."
She continued to excel, winning the title in Beijing after defeating Radwanska again in the semi-finals, and she finished as runner-up in Wuhan after she was forced to retire against Venus Williams in the final due to an injured ankle.
By the end of the season she had become the first Spaniard to reach the top three on the WTA rankings since Conchita Martinez in May 2000, and the first to finish a season in the top three since Arantxa Sanchez Vicario back in 1996.
"Garbiñe has the game that loves the power, the powerful game for today," said four-time Grand Slam champion Sánchez Vicario. "She's very tall and she likes to play against the best players."
It wasn't all positives along the way, with defeat in the early round of several tournaments including the US Open, but she learned well from her setbacks and finished 2015 on a high by winning 12 of her last 14 matches.
"For sure it has been an incredible rise, but you always have to think that you can achieve great things, otherwise it's not going to happen," she said. "You always have to have what you want to do in your mind to stay motivated.
"I've also learned that I'm strong in tough moments. This past year was a great experience for me, and hopefully the tough moments I've lived through will help me in 2016."
Muguruza will join a star-studded field that includes five of the world's top 10, including number one Serena Williams and WTA finals and 2016 Shenzhen winner Agnieszka Radwanska.
Also competing are former world number ones Ana Ivanovic, Caroline Wozniacki and Jelena Jankovic, and two-time Grand Slam champion and recent Sydney winner Svetlana Kuznetsova.
"Once again the Dubai Duty Free Tennis Championships has attracted many of the very best players in the world, including several who have reached the very pinnacle of the game as world number one," said Colm McLoughlin, Executive Vice Chairman of Dubai Duty Free.
"Garbiñe Muguruza has already made a major impact and performed with distinction at the highest level, and it's great to see she will be joining us in Dubai again."
Salah Tahlak, Tournament Director said: "It's great to see some of the best players in the world return to the Dubai Duty Free Tennis Championships. We are guaranteed some world-class tennis for all to enjoy, not only in the finals but also in the early rounds."
Play in the Dubai Duty Free Tennis Championships begins with the WTA event, which takes place between February 15 and 20.
Play then continues between February 22 and 27 with the action-packed ATP tournament featuring an incredible three of the world's top four players with world number one Novak Djokovic, seven-time Dubai champion Roger Federer and two-time Grand Slam winner Stan Wawrinka.
The Dubai Duty Free Tennis Championships is owned and organised by Dubai Duty Free, and held under the patronage of His Highness Sheikh Mohammed bin Rashid Al Maktoum, Vice-President and Prime Minister of the UAE and Ruler of Dubai.
Tickets for the event are on sale at the Box Office at the Dubai Duty Free Tennis Stadium, which is open from 9am to 9pm daily and online at https://www.dubaidutyfreetennischampionships.com/en/tickets
Follow Emirates 24|7 on Google News.