Standard Chartered Dubai Marathon: Debut man Tsegay targets first title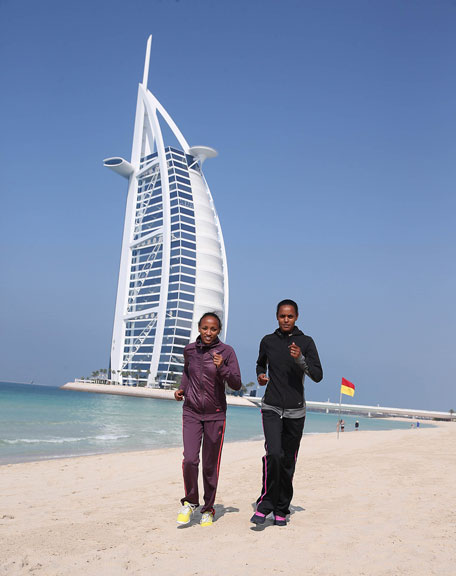 A combination of big prize money and one of the flattest courses among the major marathons means the Standard Chartered Dubai Marathon can often produce extraordinary results, a fact that puts the athletic spotlight on Dubai on Friday for the 15th staging of the world's richest marathon.

Getting underway at 7am, the marathon will feature a men's race where two sub 2:05 runners return to the premier running event of the region: Markos Geneti (Ethiopia) and Jonathan Maiyo (Kenya) are among the favourites for the $200,000 first prize, while the women's race looks like an Ethiopian duel between Meselech Melkamu and Meseret Hailu.

Held under the patronage of Sheikh Hamdan bin Mohammed bin Rashid Al Maktoum, Crown Prince of Dubai and Chairman of the Dubai Sports Council, the Standard Chartered Dubai Marathon is expected to see more than 20,000 runners compete across the event's three races - marathon, 10km and 3km Fun Run.

Two newcomers to the distance triumphed in the past two years, establishing themselves among the best in the world: Ayele Abshero won with a course record of 2:04:23, while Lelisa Desisa ran 2:04:45 in 2013. Today, there is another runner who aims to continue this unusual debutants' winning streak started by his fellow-Ethiopians, namely Atsedu Tsegay.

"I have chosen Dubai for my debut because I know this is a fast race on a flat course," said 22 year-old Tsegay, who has run the fifth fastest time ever in the half marathon with 58:47.

"It is my aim to run 2:05 in my first marathon and of course I would like to continue the debutants' winning streak."

Atsedu, who prepared in Addis Ababa for his marathon debut by running distances of up to 40km in training, added: "I will definitely follow the first group, no matter what pace they will run."

Jonathan Maiyo is well aware of the debutants' threat, especially that of Tsegay.

"Markos Geneti is a strong rival but there are plenty of others, especially the first time guys," said Maiyo, who ran his own personal best of 2:04:56 when placing fourth in Dubai in 2012.

"This could be a world record race if we all work well together. I know that I can run faster than two years ago."

Six runners feature personal bests of sub 2:07, another nine have run under 2:10, and while pacemakers will be instructed to run a pace inside the course record of 2:04:23, a new world record is always a possibility.

The women's elite entry looks as strong as two years ago when Aselefech Mergia of Ethiopia set the course record with a time of 2:19:31.

Three women broke 2:20 in that race, which remains a unique result in marathon running.

A time of 2:21:30 – fast enough to win all but four marathons in the world last year – was only good enough for sixth place in this remarkable race two years ago.

Six women who have been faster than 2:24 will compete in the Standard Chartered Dubai Marathon.

Among them are Ethiopian stars Meselech Melkamu (2:21:01) and Meseret Hailu (2:21:09).

"I came to Dubai because I know about the fast course," said Meselech, who won her debut marathon in Frankfurt in 2012 (2:21:01).

After dropping out of the World Championships' marathon in Moscow last summer she was supposed to return to Frankfurt in October: "…but I got a muscle injury which was really bad, so I couldn't go. However I was able to train very well for Dubai and I'm in good form."

While a sub 2:20 time could be on the cards it looks highly unlikely that the Ethiopian win streak will come to an end on Friday: Ethiopian women have won the past seven editions of the Standard Chartered Dubai Marathon.

Supported by the Dubai Sports Council, Adidas, Dubai Eye 103.8FM, Masafi, Dubai Holding, Dubai Police, the RTA and Dubai Municipality, the Standard Chartered Dubai Marathon gets underway at 7am with live coverage on Dubai Sports Channel and live streaming on www.dubaimarathon.org.
Follow Emirates 24|7 on Google News.