StartYas to flag off Yas Marina Circuit's 2015-16 season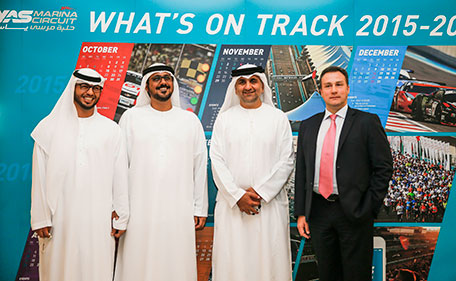 Yas Marina Circuit (YMC) unveiled an action-packed programme for 2015-16 season on Wednesday even as excitement mounts ahead of the Formula One Etihad Airways Abu Dhabi Grand Prix.
A new government health and fitness initiative called 'StartYas' which will run every Sunday at the iconic Yas Marina Circuit from October 11 from 6pm to10pm was launched.
The announcement was made at Yas Marina Circuit's official 2015-2016 calendar launch.
"We have launched an exciting calendar of events and programmes providing everyone in the UAE with a wide range of choice and underlines the circuit's multi-purpose role within the community. We are constantly improving and extending our activities and look forward to welcoming all-comers to the circuit for this coming season," said Al Tareq Al Ameri, CEO of YMC.
"Whether you are a motorsport or racing enthusiast, or like to challenge yourself at our unique venue, we will continue to provide the biggest and best sporting and entertainment opportunities in the region."
The Abu Dhabi Grand Prix is headed for another sell-out for the weekend of November 27-29, as this week it announced the after race headline artists including Latin Americ star Enrique Iglesias and British ban Blur.
Some ticket categories have already sold out with limited availability across many remaining other ticket types, according to Al Ameri.
Organisers urged fans to go to https://www.Yasmarinacircuit.com to avoid disappointment.
This year fans will be provided further digital engagement through the Abu Dhabi Grand Prix App 'YasHUB' and the 'Ignite your Experience' functionality, bringing to life all the information needed for the weekend through your mobile phone. The YasHub app is available for download on the Apple iTunes and Android stores.
As well as StartYas by Daman's ActiveLife, the 2015-2106 season promises the circuit's most comprehensive calendar of fitness, driving experiences and motorsport to date.
Building on the success of TrainYas and GoYas evenings that sees more than 4,000 people per week running or cycling at the circuit, StartYas offers residents of Abu Dhabi an ideal way to start the week for those seeking to take charge of their own health and fitness.
"Over the past years, we have seen a significant rise in chronic diseases associated with unhealthy lifestyles, obesity rates, cardiovascular disease and diabetes. For this reason, and as part of our commitment to maintaining a healthy community, we (HAAD) have prioritised raising awareness around the importance of adopting healthy lifestyles," said Dr Mugheer Khamis Al Khaili, Chairman of Health Authority - Abu Dhabi.
"This is why we are delighted to launch the StartYas initiative – an addition to the current series - which aims to provide a weekly beginning for an active and healthy lifestyle, and greater opportunities for members of the community to participate in these types of activities," he added.
Aref Hamad Al Awani, General Secretary of the Abu Dhabi Sports Council said he was delighted with the introduction of StartYas.
He said: "Our goal is to get every single person possible to participate in regular exercises. We partner on such initiatives to increase awareness of the benefits that walking, cycling or running can bestow and would urge everyone to start their week in healthy and positive manner with us on Sundays.
"In this respect, we are having 40 community sport events for this season. Those events include different types of games as we aim to encourage all segments of the community to practice various and suitable sporting activities in order to lead healthy lifestyle," Al Awani added."
Al Ameri believes the addition of a third weekly health and fitness activity cements its position as a true community space and will make a significant contribution to the well-being of residents in the UAE.
"With already more than 250,000 visits to the circuit for health and fitness purposes alone, we have developed into a space that offers a wide range of opportunities to get active and stay fit. Along with our partners, we are investing in the future health of Abu Dhabi and with the exciting new addition of StartYas are delighted to be able to provide such a comprehensive and flexible programme to people of all ages and ability," said Al Ameri.
YMC also announced the launch of DriveYas as well as welcoming Mercedes AMG as a new experience partner.
The TRD 86 Cup also returns for the second season. Supported once again by Toyota Racing Development (TRD), the TRD 86 Cup is a single-make, sustainable local motor sport initiative introduced by Yas Marina Circuit in 2014 and was created to enable amateur racers to drive in a professional, competitive environment.
This year will feature even more drivers on the starting grid with the introduction of two categories, depending on experience. Those with previous experience can sign up for the 'Gold' category, with novices encouraged to take part in the 'Silver' category.
Part of the Yas Racing Series, the second season gets off to a start between October 29 to 31.
The TRD 86 Cup will run across six race days between October and April next year and allows those who have dreamed of professional racing to lead their very own race team in real competition.
This season will also see the return of Yas Super Street Challenge, Yas Marina Circuit's local drag racing competition starting on January 7.
The third edition of the Gulf 12 Hours endurance race is back during December 9-11, with the return of Maserati to the grid.
For karting enthusiasts March 9 and 10 will see the 11th round of the UAE Rotax Max Challenge at the circuit, part of the build up to the Rotax Max Challenge Grand Finals that will see more than 260 drivers from 60 countries participating across three categories.
For the thriving motorbike community and local car enthusiasts, Bike Track Days and Track Days are regularly scheduled in the next seven months.
Cycling fans will be able to get up close and personal with leading personalities from the sport as the Abu Dhabi Tour comes to the circuit on October 11.
The globally renowned Electric Run hits the circuit on January 29, followed by the TriYas by Daman's ActiveLife race on February 26.
To join the Yas Marina Circuit 2015-2016 Calendar on social media, please use the #YasCalendar and visit:
Follow Emirates 24|7 on Google News.