Tunisians lead gold rush on day one of Fazza - IPC Grand Prix Dubai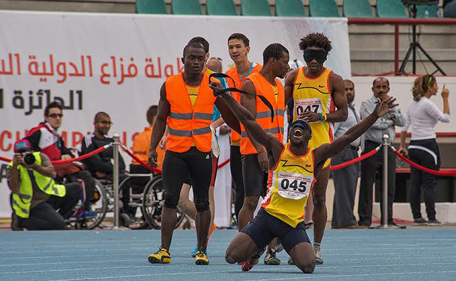 Tunisia led the gold rush winning three gold medals on the first day of the 7th Fazza International Athletics Champonships Dubai at the Dubai Police Officers Club.

The Fazza International Athletics - IPC Grand Prix Dubai is organized jointly by the Dubai Club for the Disabled and the Hamdan Bin Mohammed Heritage Center, under the patronage of His Highness Sheikh Hamdan bin Mohammed bin Rashid bin Saeed Al Maktoum, Crown Prince of Dubai and Chairman of the Dubai Sports Council.

Tunisians Walid Ktila (800m wheelchair men T34), Abbes Saidi (800m men T37/38) and Mohamed Ali Krid (discus wheelchair men F34) struck gold on Sunday.

Great Britain's Hannah Cockroft was one of the first to get on the podium after winning the 200m wheelchair women T34 final.

"I'm really happy with my performance. We are in the middle of winter training," said Hannah who clocked a winning time of 33.85 seconds defeating the Netherlands duo of Amy Siemons (35.80) and Desiree Vranken (35.80).

Cockroft's goal is to win a treble in the 100, 200 and 800 at the IPC World Championships this year.

The Fazza International Athletics - IPC Grand Prix Dubai will serve as a qualification event for the IPC World Championships which will be held in Doha, Qatar this year and the Paralympic Games in Rio de Janeiro, Brazil in 2016.

The 2015 edition is an IPC Athletics Grand Prix competition with Dubai hosting only the third IPC Athletics Grand Prix after the inaugural edition was also held in the UAE last year.

It is the first of nine IPC Athletics Grand Prix this year, culminating in the IPC Athletics World Championships in Doha, Qatar in October.

"The number of competitors has increased. When we started it was 13 countries and 85 athletes in 2009. We have now 48 countries and 490 athletes," said Thani Juma Berregad, Chairman of the Dubai Club for the Disabled and Chairman of the Organizing Committee for the Fazza International Athletics IPC Grand Prix in Dubai.

"The number of events is also 171 more than what Rio de Janeiro will have the next Paralympic Games. This is a good indicator of the growth of Fazza International Athletics IPC Grand Prix. It is not only one of major events in our country but also in the world since it would be a qualifying event for IPC World Championships in October and Paralympics next year," added Berregad.

A record number of 490 athletes from 48 countries are competing with hosts UAE fielding nearly 150 participants drawn from several clubs around the country.

Para-athletes from Australia, Azerbaijan, Jordan, Bahrain, Algeria, Brazil, Denmark, Sweden, Iraq, Libya, Cameroon, Germany, Morocco, Mexico, Saudi Arabia, Japan, Greece, Uzbekistan , Iran, Ireland, Britain, Belgium, Bulgaria, Thailand, Turkey, Tunisia, Egypt, South Africa, Kuwait, Russia, Slovakia, Syria, Switzerland, France, Palestine, Finland, Qatar, Kyrgyzstan, Kazakhstan, Canada, Latvia, Lithuania, Malaysia, Mauritius, Nigeria, the Netherlands and India are vying for glory.

Germany's Franziska Liebhardt achieved her personal ambition of breaking the European record in shot put women F36-38 final.

"I'm really happy about that," said Franziska after throwing a distance of 11.83 metres erasing the previous mark of 11.01.

Cameroon celebrated victory in the 100m men's final T11 with Charles Atangana Ntsama clocking 12.03 seconds while his team mate Patrick Awa Bakounga (12.59) claimed the bronze medal. Kazakhstan's Makshan Nurlbayev (12.07) won the silver.

"I'm very happy for this victory. I thank all my family in Cameroon. I'm sure that I made my best performance," said Charles.

Hermine Guemo Tala (16.15s) and Irene Ngono Noah (19.69) emerged victorious in the 100m women T11/12 event.

Ranki Oberoi of the Netherlands was elated after winning his favourite event - 100m men's T20.

"I focus more on long jump but I'm very glad I won this. 100 metre is my thing," said Ranki whose idol is Jamaican sprinter Yohan Blake.

"My paralympic event is long jump. I do it (100m) for fun. For me it's important," said Ranki who clocked 11.29 seconds hiding his disappointment that this event is not there in Rio.

"Everyone say that at Rio (Paralympics) there will be two extra events. I hope it is 100 metres. Otherwise I got only chance to be champion," said the 21 year-old Dutch star.

Algeria also won two gold medals with Abellatif Beka winning the 800m men T13/46 clocking 1:55.49 minutes.

They won gold and silver in the shot put wheelchair women F32-34 through Asmahan Boudjada (5.11 metres) and Mounia Gasmi (5.09m).

"It is a great competition," said Morocco's gold medallist Sanae Benhama after winning the 100m women T13/20 final in a time of 12.98 seconds defeating Britain's Erin McBride (13.22s).

"The competition is tough because lot of countries come to Dubai for this championships. It is a good experience for athletes," said Bahrain's coach Abdullah Dhakeel after Fatema Nedham bagged the gold medal in the shot put wheelchair women F53/54 event throwing a distance of 4.40 metres.

Four UAE athletes also got on the podium winning three silver medals in track events.

Mohamed Hammadi of Althiqah Club for handicapped came second in the 800m wheelchair men 34 clocking 1:58.37 minutes, Khaled Abdah of Dubai Club for the Disabled won silver in the 200m wheelchair men T33/34 in a time of 36.00 seconds and Obaid Sebat Araidat also of Dubai Club for the Disabled finished second in the 200m wheelchair men T51/52 final clocking 40.35 seconds.

Adel Gholum of Dubai Club for the Disabled claimed a bronze medal in the 100m men T20 final clocking 13.29 seconds.

"I trained very hard for this expecting to be like a world championship," said Salah Qasab, a UAE national para athlete who competes in the 100 and 200.

Another UAE athlete Reem Hussein Alblooshi said she was excited to be participating in this IPC Grand Prix.

The competition will continue until Wednesday February 25 at the Dubai Police Officers Club in Jadaf, Dubai starting at 3pm each day.

Athletes compete in distances from 100m, 200m, 400, 800m, 1500m and 5,000m on the track, and field events of shot put, discus, javelin, club throw and long jump.

Follow Emirates 24|7 on Google News.