UAE chief selector Bukhatir aims to build young side for next World Cup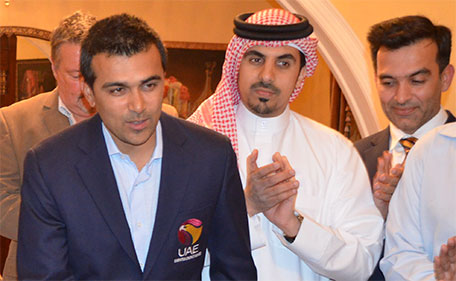 The Emirates Cricket Board (ECB) has taken the first step towards building a new generation of UAE cricketers within full-time professional system by restructuring the selection panel.

"Waleed Bukhatir has been appointed as chief selector, with Zayed Abbas, Mohammad Tauqir and Khurram Khan appointed as national selectors, all of who will work closely with UAE Cricket's head coach, Aqib Javed," the ECB confirmed in a statement.

This step is the first in ECB's intent to build a full-time professional system, bolstered by full-time professional staff, according to ECB.

The group, led by Bukhatir, will liaise closely with local cricket councils and will be keeping a keen eye on all cricket activities, including tournaments and academies (played and conducted under the auspice of ECB) for talent that will be necessary in lifting the national team to a more competitive level.

Bukhatir succeeds Mohammed Reda Abbas, who retired from the ECB after 40 years of service and was chief selector when UAE took part in the 1996 and 2015 World Cup tournaments.

"We are making sure to build the team for next four to eight years. We have a plan to build a team for the next World Cup and also build a young team so that it will be ready for the 2019 World Cup and the one after," said Bukhatir in an interview with Emirates 24|7.

Vice-Chairman of the Sharjah Cricket Council and a board member of ECB, Bukhatir welcomed onboard two stalwarts of UAE cricket Khurram and Tauqir.

"ECB found them most suitable at the moment to be selectors because they know the conditions, players and format. We are definitely working together. We have another member of (ECB) board Zayed Abbas as well," said Bukhatir who is looking forward to building a team following the retirements of former captains Khurram and Tauqir.

Abbas acted as UAE cricket's attaché during the UAE's 2015 Cricket World Cup campaign in Australia and New Zealand and oversees ECB's marketing.

"It is a challenge. These can be overcome because we got the facilities, a strong structure of Emirates cricket and we have a lot of cricketers. It's just a matter of getting the right pool, selecting the best of them and making sure we develop the best team in different areas and give them more match practice against foreign teams," said Bukhatir who backed the idea of having full-time players.

"Discussions are happening on having full-time players. That also is going to help the team in building up profesionally. Having dedicated players travelling for tours, playing domestic matches, attending nets on a regular basis will definitely speed up the process of building up a very talented team that what we want," said Bukhatir who is also chairman of the ECB Domestic Cricket Development Committee.

The immediate focus will be on the senior national team but Bukhatir is mindful of the fact they need to build a junior base.

"We are definitely going to look into different age groups and be spending lot of time and lot of brainstorming on how to develop the youngsters as well. We need to work out a programme on how to make them play school level and college level cricket which is also very competitive and from there attract them to the domestic A class teams and get them to the right pool," said Bukhatir who was pleased with the programme to attract Emiratis to the game.

"We are happy that the number of locals (playing cricket) have increased substantially. We have dedicated coaches and we have a very good academy in Al Ain. We have assigned coaches for players. It is progressing very well. Hopefully we will be looking to ensure we have teams and we want to be sure that they are ready to play in the domestic circuit," he said.
Follow Emirates 24|7 on Google News.