UAE ideal for India vs Pakistan World T20 clash over security fears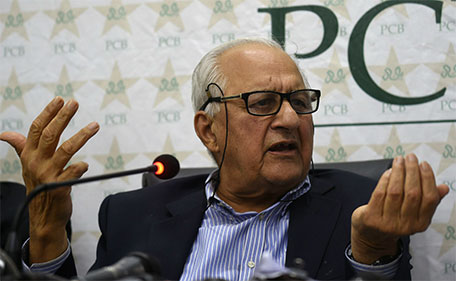 UAE has emerged as an ideal venue to host Pakistan's matches if Islamabad does not allow its cricket team to tour India for the World Twenty20 next month.
India host the ICC World Twenty20 from March 8 to April 3 but Pakistan's participation is subject to government clearance as there are specific threats, Pakistan Cricket Board chairman Shaharyar Khan said.
"We have told the ICC (International Cricket Council) now and before as well, the decision (to tour India) is with the government and it will consider if there is a specific Pakistan oriented security threat," Khan told media.
Pakistan's cricket chief Khan said a proposal was given during the ICC Board meeting in Dubai last week to play their World Twenty20 matches on neutral venues.
The marquee Super 10 Group 2 clash of the World Twenty20 between India and Pakistan is scheduled to take place at Himachal Pradesh Cricket Association Stadium, Dharamsala on Saturday March 19.
With Dubai and Sharjah hosting the Masters Champions League (MCL) which includes former Indian opener Virender Sehwag and the inaugural Pakistan Super League (PSL) concurrently, UAE has emerged as the favourite destination.
However, it remains to be seen whether the Indian cricket board (BCCI) will agree to this proposal having backed out of bilateral series against Pakistan scheduled to be staged in the UAE in December.
"Someone in the ICC meeting said that if there are doubts over extremists (at Pakistan matches) we are ready to play at neutral venues in case our government does not give the permission to tour India," said Khan.
Khan said a 500-plus Pakistan contingent featuring in the South Asian Federation (SAF) Games in Guwhati was different from a cricketing event.
"There are more chances of attacks on cricketers than on swimmers and players of other games."
"If the decision is negative then maybe the ICC will say that our matches should be held on neutral venues in Sri Lanka or United Arab Emirates."
Neighbours Pakistan and India share a volatile relationship.
There was a thaw recently as Pakistani prime minister Nawaz Sharif briefly met his Indian counterpart Narendra Modi on the sidelines of a climate change meeting in Paris late last year.
That was followed by a surprise visit by Modi to Lahore to attend Sharif's birthday and a family gathering.
But last month's attacks on an Indian air base in Pathankot derailed the peace process leading to the cancellation of talks between the foreign secretaries.
Khan said there have been incidents recently which suggested that there are indeed Pakistan-specific threats.
"They are not general threats, like Australia had in Bangladesh and they did not send their team for the Under-19 World Cup," Khan said.
Australia withdrew from the January-February Junior World Cup over security fears.
"PCB could hold a meeting with the BCCI officials in Mumbai (the BCCI office was the scene of protests by Shiv Sena activists in October 2015), Pakistan singer Ghulam Ali's concerts could not be staged twice over threats and before that a book launch for Khursheed Kasuri (the former Pakistani foreign secretary) was disturbed," said Khan of the recent events in India last year.
Follow Emirates 24|7 on Google News.