UAE Rugby and Dubai Sports Channel to air Rugby Show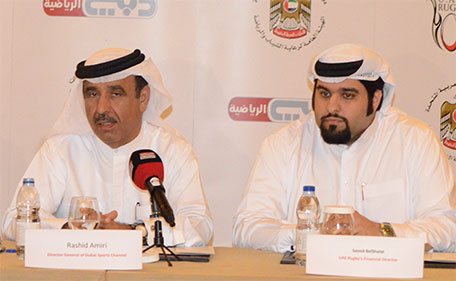 UAE Rugby Federation (UAERF) and Dubai Sports Channel (DSC) have finalised a two-year agreement that will see a UAE Rugby Show produced and broadcast weekly, during the UAE Rugby season, on Dubai Media Incorporated's Dubai Sports Channel.
Scheduled for its first airing in February, the 30-minute show will offer highlights from the previous two-weeks UAE Rugby Premiership, Conference and Community leagues, as well as regular spots focusing on Emirates Airline National Team performances, Emirati development (Dubai Airports Shaheen, and UAE Rugby's Player Pathway Programme – co principal partners HSBC and Land Rover), a UAE-based club and player focus, referees updates, UAERF sponsor showcase, as well as other UAE Rugby related features.
"This is another exciting first for UAE Rugby. We are thrilled to partner with Dubai Sports and bring to life the UAE Rugby Show where all expatriate and Emirati elements of the sport will be showcased," said Qais Al Dhalai, UAE Rugby's Secretary General.
"Our rugby community, from both the expatriate and the Emirati, is rich in interesting stories and we are exceptionally happy to have quality resources in which to create informative features. We are confident that the weekly show will be well received and supported by all and become an integral part of the wider UAE Rugby community's week."
"We look forward to developing the show as we move through this season, and into the next," he added.
Rashid Amiri, Director General of Dubai Sports Channel said: "Our team at Dubai Sports Channel is committed to producing a quality, interesting show that will connect local and expatriate viewers with relevant rugby content (and) will boost the efforts and profile of UAE Rugby across our platform. Also, we strongly believe the UAE Rugby show will provide Dubai Sports Channel with a landmark local-sports show to bolster our existing sports portfolio."
The UAE Rugby Show will be broadcast in English and will offer Arabic subtitles.
Follow Emirates 24|7 on Google News.