UAE's disabled athletes warm up for Fazza IPC Grand Prix Dubai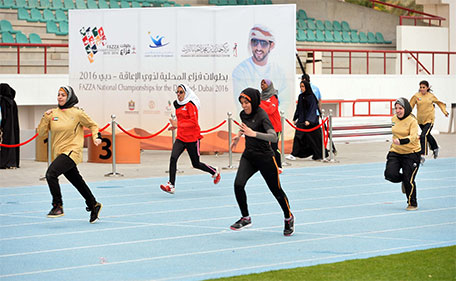 UAE's disabled athletes were out in full force as officials were on the look out for future stars during a local track and field meeting held at the Dubai Police Officers Club in Al Jaddaf on Friday.
More than 100 disabled athletes took part in the competition held under the patronage of Sheikh Hamdan bin Mohammed bin Rashid bin Saeed Al Maktoum, Crown Prince of Dubai and Chairman of Dubai Sports Council, organised and supervised by the Dubai Club for the Disabled with a strategic partnership and support from the Hamdan Bin Mohammed Heritage Center (HHC) and in cooperation with the Dubai Sports Council (DSC), the General Authority for Youth and Sports Welfare and the UAE Paralympic Committee.

Six disabled sports clubs from Abu Dhabi, Ajman, Al Ain, Al Thiqah, Dubai and Khor Fakkan brought their athletes for the competition and they all tried their very best inspite of the cold, overcast and windy conditions.

This competition served as a key preparation for the Fazza IPC Grand Prix Dubai to be held in March.
We see new athletes competing in the Fazza Championship for the Disabled every year and it is a very important tournament for the UAE people. We hope that everyone came away happy from this particular competition as it was a preparatory test for us for another one – the Fazza International Athletics, IPC Grand Prix Dubai – in March, said Ahmed Al Hammadi, Chairman of the Technical Committee.
'We'll have more than 400 athletes in that big tournament and I think this year's event will be stronger than any of the previous editions because it's one of the last competitions before the Olympic Games and everybody coming here will be looking to qualify for Rio de Janeiro. We have two athletes already qualified for Rio up until now, but we hope more can qualify in March. We saw two world records broken at the Second Fazza International Para-Archery Championship and I expect to see more world record-breaking achievements in March as everybody gets ready for Rio," he added.

Fatma Toumi, the throwing coach at the Dubai Club for the Disabled, currently has one of her athletes, Siham Al Rasheedi, already qualified for the Paralympic Games in Brazil and she has high hopes for another in Abbad Khalid Abbad.

"He is a very good athlete with a big future," said Toumi, a Tunisian who was the African champion in the javelin during her athletics career. "He will be a big champion and I think he will qualify for Rio de Janeiro soon."

Abbad said: "The sport of athletics is comparatively new to me, but I'll be a big champion in the future. I used to compete in table tennis and ten-pin bowling, but nobody knows you if you participate in those sports whereas everybody does in athletics. I'll do everything I possibly can to achieve the qualifying mark to go to Rio. I must work hard and we're now in camp, with training sessions in the morning and evening, so hopefully it will come."

Abbad needs to make up six metres to board that flight to Brazil, yet Al Rasheedi is already assured of her place having cleared 24 metres in the discus and her sights are set on the sporting showpiece this September.

"I'm focused on the Rio Paralympics. I'll be training very hard for it and, having finished seventh in the discus in London four years ago, I'll be aiming for the podium this time around," she said.
Follow Emirates 24|7 on Google News.