[Video] UAE sailor Adil Khalid trains with double Olympic gold medallists in Dubai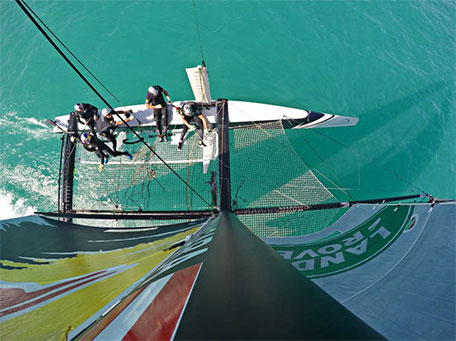 While in the UAE launching their new GC32 foiling catamaran, double Olympic gold medalists Roma Hagara and Hans-Peter Steinacher mentored UAE sailor Adil Khalid on his quest to secure a spot on his country's team for the 2016 Games in Rio de Janeiro.
"Roman and Hans Peter are heroes," said the 27-year-old. "They achieved everything a sailor dreams of, and it's an honour to have their support."
Steinacher responded, "Adil is a great athlete and definitely has the potential to get on top in this sport."
Dubai skyline with its famous sail-shaped Burj Al Arab hotel was the backdrop as two sailing legends – Austria's Roman Hagara and Hans Peter Steinacher – tested the new GC32 foiling catamaran that the Red Bull Sailing Team will push to the limit in the fight for the 2016 Extreme Sailing Series title. Joining the training session were the rest of the crew: Stewart Dodson (NZL), Bradley Ferrand (NZL) and Adam Piggott (UK).
Kicking off in Muscat, Oman on March 16-19, the Extreme Sailing Series will bring the action right to the public in eight countries. But 2016 is the first time the series has used foiling technology.
The super-light GC32 can reach speeds of almost 40 knots (74 km/h, 46 mph), and like America's Cup yachts, it appears to "fly" as it lifts off the water and accelerates.
"Flying a boat in front of this spectacular skyline is an experience in itself," said Hagara, who twice won Olympic gold with Steinacher.
"You need to focus on sailing, but you are stunned by the architecture."
As two of the sport's most experienced sailors, and third-place finishers overall in the Extreme Sailing Series last year, the Austrian duo are confident in the face of big challenges this season.
The 2016 lineup is the toughest ever. Many top teams are back, like 2015 winner The Wave, Muscat and two-time America's Cup champion Alinghi, plus there's an impressive newcomer: Land Rover Ben Ainslie Racing.
"We have the skills to win the title," says Steinacher. "Unfortunately the organizer of the event series did not fulfill agreements and we were unable to conduct any earlier training due to late boat delivery, but we feel that even roadblocks to our preparation can't stop us this year."
Follow Emirates 24|7 on Google News.