West Ham United train at Dubai Sports City for winter break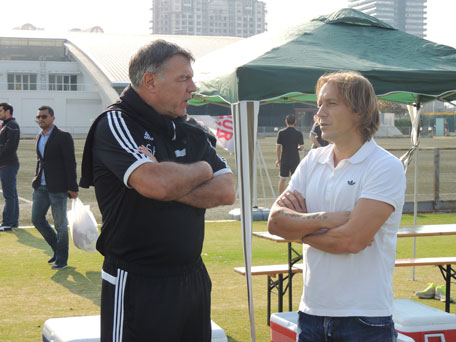 West Ham United manager Sam Allardyce is banking on his side's training camp at Dubai Sports City Football Academy to act as the perfect boost ahead of the final run-in to the end of the English Premier League season.

The Hammers are making use of the world-class facilities to recharge the players' batteries after an intensive run of matches over the past two months.

"You can see from the mood of the players how much they enjoy it," said Allardyce as he spoke to media after the squad's first training session.

"The amount of games we have to play in December and January is our peak time so the players, physically and mentally, are very tired.

"So getting out in the sun, relaxing in the sun, training in the sun and enjoying each other's company is extremely important.

"We are the only country (in Europe) that does not have a mid-season break sadly, so we have to try and fit it (the trip to Dubai) in at times like this.

"The lads can recharge their batteries and experience has taught me that after trips like this the lads' energy levels have increased."

West Ham United's use of the Dubai Sports City Football Academy means that three leading club sides have now trained at the facility over the past 12 months, as the London club follows in the footsteps of fellow English Premier League side Swansea City and Anzhi Makhachkala from the Russian Premier League.

The Hammers' visit came about thanks to the friendship that exists between Allardyce and Dubai Sports City Football Academy Director of Football Michel Salgado, the Real Madrid and Spain legend. Salgado played under Allardyce at Blackburn Rovers.

"We contacted him (Michel) and asked if we could come and train here and, as always with Michel, he has been more than helpful giving us these good facilities and in particular the grass," said Allardyce.

"As everyone knows, it is not easy to grow grass in Dubai but this is a very good surface for us.

"Now the training facilities are exceptionally good and with the warm weather you are guaranteed the sun as well as the exceptional service," he added.

Three successive wins and four successive clean sheets have lifted West Ham United to eleventh place in the English Premier League but the manager said there was still no scope for complacency that the side's safety from relegation was guaranteed.

"The pressure is off somewhat to what it was (before our three wins in a row) but you would think eleventh place would be a lot more comfortable than it is," he said.

"We are only four points from the third from bottom side so we have still got a lot to do and we have still got a long way to go. We are here for the sunshine but also to get ready for the big push for the last 12 games (of the season)," said Allardyce.

And who is his tip for English Premier League title glory this season?

"It has been so unpredictable," he said. "Arsenal has stayed there for longer than they normally do but now they have just started to waver.

"I think Jose (Mourinho, the Chelsea manager) thinks he may not have enough firepower but he has seen it and done it before so he knows how to do it. Whether his players can see it through, I do not know.

"As for Manchester City, it appears that when there are one or two injuries to key players they have not quite got the type of squad that Chelsea have got, but if those players get back and stay fit then it is between Chelsea and Manchester City."

West Ham United's next match is in the English Premier League, at home to Southampton on Saturday February 22.

Commenting on the squad's use of the Dubai Sports City Football Academy, Michel Salgado said: "It was easy. I worked with both the manager and the assistant manager (Neil McDonald) at Blackburn Rovers, they called me, told me they were coming to Dubai and asked if we could organise training at our facilities.

"I told them 'Look, we have got amazing facilities, the best in Dubai, I think', and of course it is great to have them here.

"Having West Ham United here after Swansea City and Anzhi, it is one of the reasons why we have got these facilities.

"Having sides like this here makes the Dubai Sports City Football Academy talked about and stand out – and rightly so given what we have got here. We are absolutely delighted."

Dubai Sports City General Manager – Sports Business Maqbul Dudhia added: "We are extremely proud to be hosting West Ham United at the Dubai Sports City Football Academy and I know they have been delighted with what they have found here – with world-class turf and artificial pitches and, of course, perfect weather.

"The club's presence with us is another illustration of Dubai Sports City's growing reputation around the sporting world and we look forward to hosting more top clubs in the future.

"The Dubai Sports City Football Academy is just one of a host of outstanding, world-class facilities we have, with others including the ICC Academy, The Els Club, the Butch Harmon School of Golf and the Dubai International Stadium.

"All of them are available to everyone, but the fact elite athletes are using them in greater and greater numbers tells you all you need to know about the quality of what we have to offer.

"With the 'Desert Swing' of golf's European Tour just concluded and our biggest ever season of cricket still very much in full swing with the ICC Under-19 Cricket World Cup about to start, Dubai Sports City is buzzing. And that buzz is only going to grow over the coming weeks and months," he added.
Follow Emirates 24|7 on Google News.