World records broken at Fazza International Para Archery Championship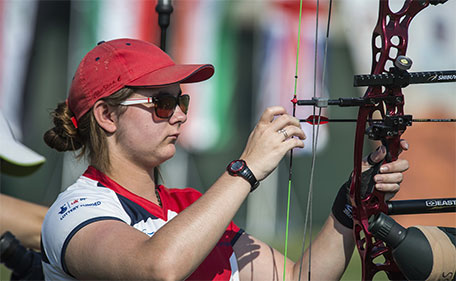 Two world records were broken at the Second Fazza International Para Archery Championship Dubai 2016 during the qualification round at the Dubai Club for the Disabled on Saturday.

David Drahoninsky of Czech Republic and 15-year-old Jessica Stretton set new world records in the WI Open Compound events.

This was confirmed by Carole Hicks, Chairperson of the World Archery Paralympic Committee and the Technical Delegate from the world governing body of the sport for the Fazza International Para Archery Championship.

Jessica broke the women's world record of 648 held by reigning world champion Joanna Frith who was virtually in tears after her young team mate erased it by firing 72 arrows for a combined total of 649 points on Saturday morning.

"I just shot my best but did not expect to break the world record. It's an amazing feeling," said Jessica, a bronze medallist at the World Para Archery Championships held in Germany last September.

The road to Rio Paralympic Games has certainly begun for Jessica who is bubbling with confidence after her world record-breaking effort which has put Great Britain in the forefront of the Championship being held in Dubai.

The competition was particularly intense between the British pairing of Victoria Jenkins and Jessica Stretton who fired personal bests.

Jenkins shot 331 to lead her team mates Stretton (320) and Frith (320) after the first round before finishing with a total of 636.

"It's fantastic, amazing," said Jenkins when she heard that Jessica has set a world record.

"It's been great. It's lovely to shoot here under the lovely blue skies," said Jenkins who is excited be in Dubai.

Team Archery GB head coach Michael Peart relished the high standard of competition displayed by the women's archers.

"She (Frith) is obviously sad at the moment. Jo has all of the world records. So losing one is naturally disappointing. I have no doubt that Jo will be back to claim that record again," said Peart.

Frith, who is recovering from a neck injury suffered earlier this week, had the satisfaction of finishing ahead of Jenkins with 638 points.

Czech Republic's Drahoninski fired rounds of 334 and 342 to set a new world record of 676 in the W1 Open Compound Men's category while Britain's John Walker (647), Finland's Jean-Pierre Antonios (646) and Korea's Dongsub Koo (607) were the other high performers.

The Iraqi duo of Shakir Abed Khalaf and Wurood Basim Al Murshedi kept the regional flag flying with top performances in the Compound Open qualification.

Iraq coach Javad Kazem said the Fazza International Para Archery Championship helped their athletes gain international exposure and raise their level of performance.

"Wurood is the reigning Asian champion and she needs to take part in the more competitions like this to secure her ticket for the Rio Paralympics," said Kazem.

Khalaf secured the top rank in the Men's category with a combined total of 681 ahead of France's Eric Pereira (679), Canada's Kevin Evans (675), India's Vilas Dawane (666), Nathan McQueen (664) and Michael Hall (654) of Great Britain.

UAE's Mohammed Al Shehhi (627) and Gholam Khorshid (608) were also ranked among the top 10 while four-time world champion John Stubbs retired after firing a round of 343 as a preventative measure after feeling a twinge on his left forearm.

Canada's Karen Van Nest secured top ranking in the Women's Compound Open category by firing identical rounds of 329 for a total of 658 ahead of Russia's Alekseeva Lulia (653) and Wurood of Iraq (646), a gold medallist at the inaugural Fazza International Para Archery Championship last year.

Great Britain's Jodie Grinham (641), Thailand's Ratchanee Panmai (627), France's Julie Chupin (626) and Iran's Somayeh Abbaspour (615) were the other high performers.

In the qualification round, archers fire six scoring ends of 36 arrows each in two sessions for a maximum possible 720 points get ranked for the elimination matches on Sunday.

During the knockout round leading to the semi-finals, archers shoot three rounds of five arrows each within the space of two minutes to determine the winner while in the individual medal matches players shoot alternately within the space of 20 seconds.

Team Archery GB have brought the largest contingent of 14 athletes for the second edition of the Fazza International Para Archery Championship which has gained the recognition of World Archery and attracted a record number of 50 athletes from 15 countries.

The road to the Paralympic Games in Brazil has certainly begun for some of the world's top archers with many achieving personal bests.

Most of the participating countries such as Great Britain and France are using the competition here as a preparation for the European Para Archery Championships in April and to accumulate ranking points.

To qualify for Rio, unlike in other sports where timings matters, Para Archers have to accumulate points to be among the top 10 or 20 in each event.

"It's not like athletics, swimming or powerlifting. You need to be competing in more tournaments to get yourself in the top ranking. Otherwise you will find yourself out of Paralympic Games. Dubai will be one of the last chances for those athletes to increase their points," said Majid Abdullah Al Usaimi, Executive Director at the Dubai Club for the Disabled and Director of the Fazza Championships for the Disabled, who was instrumental in persuading World Archery to grant recognition to this Championship.

The Fazza International Para Archery Championship is organized and supervised by the Dubai Club for the Disabled with the strategic partnership and support of the Hamdan Bin Mohammed Heritage Center (HHC) and in cooperation with the Dubai Sports Council (DSC), the General Authority for Youth and Sports Welfare and the UAE Paralympic Committee.

The participating countries in the Second Fazza International Para Archery Championship are Canada, Czech Republic, Finland, France, India, Iran, Iraq, Mongolia, the Netherlands, Romania, Russia, Great Britain, South Korea, Thailand and tournament hosts the UAE.
Follow Emirates 24|7 on Google News.