Lomachenko taunts Sosa en route to WBO junior lightweight title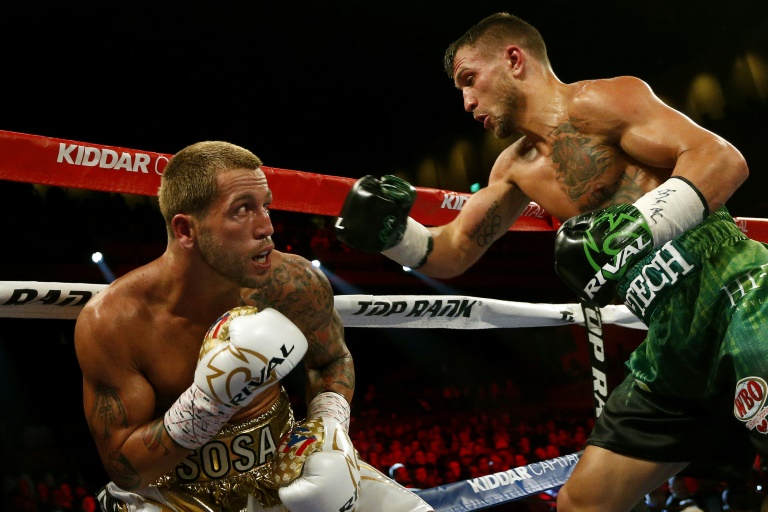 Vasyl Lomachenko easily retained his WBO junior lightweight title on Saturday, with a dominating boxing display over Jason Sosa, whose corner pulled the plug at the end of the ninth round.
The 29-year-old Ukrainian cemented his status as one of the best pound-for-pound fighters in the world with a ninth round TKO in just his ninth pro fight.
"I came into the ring to do my job. I think I did my job really well," said Lomachenko.
Lomachenko used his speed, skill and power to improve to 8-1 by outclassing American Sosa who wouldn't quit despite taking a beating from the opening round.
In the fifth round, Lomachenko mocked Sosa by pretending to hold out a cape as if he was a matador toying with an angry bull in the ring.
Sosa's trainer stopped the fight after the ninth round, first removing his boxer's mouthpiece in the corner then motioning to the referee.
Sosa was not supposed to be in this fight, coming in as a 25-1 underdog, and it showed. He was a willing participant but was Lomachenko's third choice after the others declined.
But he did manage to bait Sosa into this one and no amount of banderillas or mounted picadors could save Sosa from the inevitable.
Lomachenko's inability to get anyone to fight him in the 130-pound division has him seriously considering moving up in class to 135.
"I am going to call Top Rank (promoter) Monday and see if I can fight any of the 130 pound champions. If we can't get anybody we can move to 135," he said Saturday.
Lomachenko turned pro after a superb amateur career that saw him record 396 wins and just one loss. He won back-to-back Olympic gold medals (in different weight classes) for Ukraine in 2008 and 2012, as well as a pair of amateur world titles.
A brilliant boxer who is above average in every category including power, speed, defence, technique, ring intelligence, the quick start to his pro career has been historic.
He won a featherweight world title in his third fight to tie the boxing record for fewest bouts needed to win a world title, and set a boxing record by becoming a two-weight titleholder in his seventh fight.
Lomachenko landed 275 punches compared to just 68 for Sosa.
After a tentative opening round, Lomachenko stepped up his offence at the end of the second by landing a flurry of punches.
By the fifth round, it was apparent that Sosa was hopelessly overmatched, putting more energy into ducking punches than throwing them.
Lomachenko was teeing off on Sosa at will and if there was a mercy rule in boxing this fight would have been over before the seventh round.
Follow Emirates 24|7 on Google News.