Maradona takes aim at FIFA, Blatter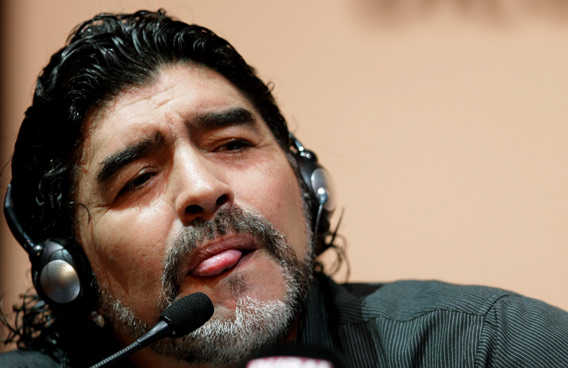 Diego Maradona on Saturday took aim at FIFA and its president Sepp Blatter, saying football was corrupt and had to put its house in order.
"Things are neither clear nor clean in the world of football right now and many people recognise this reality," asserted the Argentinian World Cup winner during a press conference in Dubai, where he has taken on a two-year coaching contract with local outfit Al-Wasl.
FIFA has been mired in months of corruption allegations but Blatter has managed to rise above the storm and on Wednesday won a landslide vote to be re-elected unopposed as the head of world football's governing body following the withdrawal of Asian football chief Mohamed bin Hammam, suspended amid claims of bribery.
Maradona, who has enjoyed his own share of negative headlines owing to past drug-related suspensions, says he is unimpressed with the game's rulers.
"Every day we see more corruption and manipulation of matches," charged the 50-year-old who helped Argentina to the 1986 World Cup on a day which saw reports emerge of alleged matchfixing on a friendly international between his own country and Nigeria amid claims of unusual betting patterns.
Asked if he backed Blatter's campaign to reform FIFA and its decision-making processes Maradona, sacked last year as Argentina coach, said: "I do not support anybody but I love football. I do not like those who are corrupt and who engage in corruption and I do not support them."
He added that in the past he had turned down offers to play some role in the FIFA "family".
Maradona asked: "What is this family that they speak of? None of them has ever played football. And when they are at the helm they make a multitude of wrong and stupid mistakes. They don't ask our opinion or advice to promote football," Maradona added.
And he insisted that "we will carry on our fight to get these people to quit FIFA. I ask them to leave.
"(But) Blatter is not going to resign. Let us not be under any illusions, nothing is going to change. Unfortunately, we have a big museum to FIFA - dinosaurs who do not want to leave power," Maradona summed up.
On his new challenge to bring success to 2010 Gulf Champions League winners Al-Wasl, currently fourth in the table and 16 points adrift of champions-elect Al-Jazira, Maradona insisted that reports of a 10 million dollar contract were exaggerated.
"We're a long way off that figure - these days the big contracts go to the players, not the coaches."
Follow Emirates 24|7 on Google News.