Messi delivers as Argentina scrape through to World Cup's last 16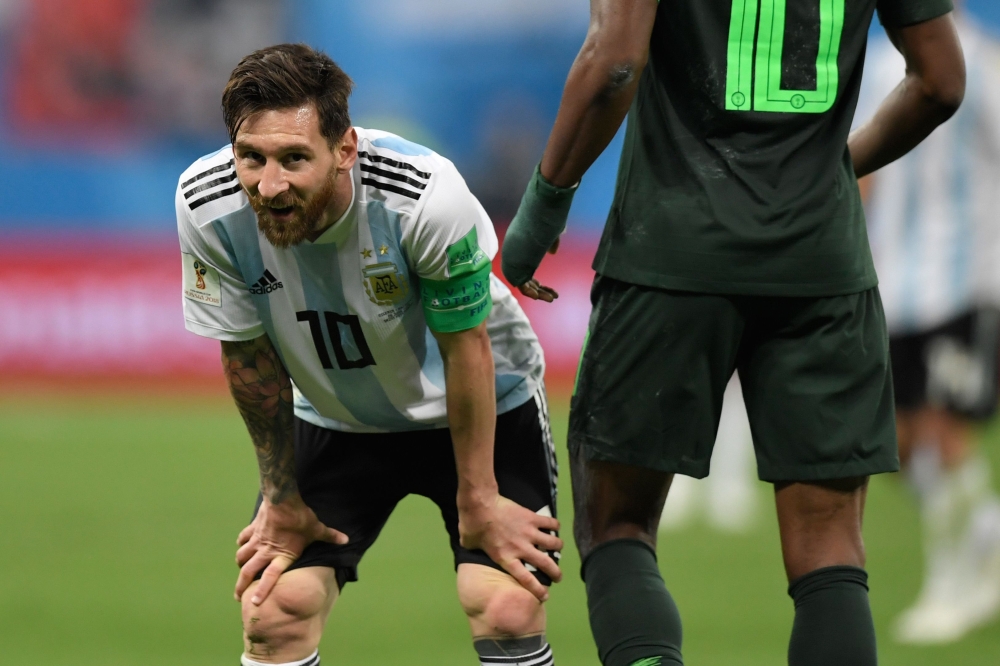 Diego Maradona crossed his arms over his chest and pointed to the sky.
Lionel Messi had needed just three touches to score but Argentina still took 86 minutes to defeat Nigeria.
Marcos Rojo was the unlikely match-winner, an emphatic finish of which even his captain would have been proud, to ensure Jorge Sampaoli's disjointed, disorganised and, at times, desperate team are still alive at this World Cup.
But they have Messi. Despite Rojo's heroics, when Argentina's substitutes flooded the pitch at the full-time whistle, it was their number 10 they smothered.
When Javier Mascherano wanted to express his gratitude after conceding the penalty that for 35 second-half minutes looked like it might send Nigeria through, it was Messi he hugged.
"We were confident that we were going to win the match," Messi said afterwards. "It is amazing to have won it in this manner. It is a joy and one that we deserved."
The 31-year-old, in what may well be his final stab at leading Argentina to a World Cup triumph, did his work in the 14th minute.
Ever Banega's sumptuous pass was chipped into his path. Messi cushioned the ball with his left thigh and without letting it bounce, prodded it into space with his left foot. Six steps later, his right foot pinged the ball past Francis Uzoho and inside the far post.
Argentina came here, needing only to win as long as Croatia, top of Group D and already through, did as expected and held off Iceland. They held up their side of the bargain, winning 2-1 in Rostov and will face Denmark on Sunday.
Argentina have earned a go at France in Kazan on Saturday.
But victory was far from guaranteed after a tumultuous opening two games, for which Messi was certainly not blameless.
His missed penalty in a stodgy draw against Iceland set the tone but his vacant performance against Croatia felt too incongruous to be a one-off.
"The way the match was structured against Croatia didn't suit Messi," Sampaoli said on Monday.
Revolting rumours
Many felt it was the team's structure that had failed their star player, leading to calls for Sampaoli to be sacked and rumours of revolt within the squad.
Jorge Valdano, who scored in the final when Argentina won the World Cup in 1986, told the Guardian how Messi's troubles were symptomatic of muddled thinking from top to bottom.
"How are we supposed to know what to do with football if we don't even know what to do with Lionel Messi?" he said.
It was in this atmosphere of head-shaking and finger-pointing that Messi arrived at the Saint Petersburg Stadium, where fans wore masks with his face and shirts with the number 10 on their back.
When he trotted out to warm up, the stadium, still half-full, made a din worthy of a full house, as Maradona in the stands danced with an unsuspecting Nigeria supporter.
Perhaps Messi was relieved when the whistle blew, even if the early exchanges rather passed him by.
An early run was halted by a clumsy tackle from John Obi Mikel before another ended with a under-hit cross.
But one moment was all it took and after Messi had fooled Kenneth Omeruo to dart clear and plant the ball into the net, he peeled away to the corner and fell on his knees.
For the next 20 minutes, he was purring. There was a deft flick behind his leg on the touchline to Banega. There was a defence-splitting pass for Gonzalo Higuain that Uzoho just managed to intercept.
But Argentina lost momentum towards the end of the first half and when Victor Moses slid home a penalty after the frantic Mascherano pulled down Leon Balogun, Messi faded too.
He drifted in from the right flank where he had earlier got so much joy and began collecting the ball from deep. One sideways pass was cut out and almost sprung a Nigeria counter-attack. Another weaving run was quickly surrounded by a sea of green shirts.
It seemed the game was up but Rojo had the last word after Messi had the first. Argentina live to fight another day.
Follow Emirates 24|7 on Google News.