Muay Thai Championship concludes successfully in Yas Island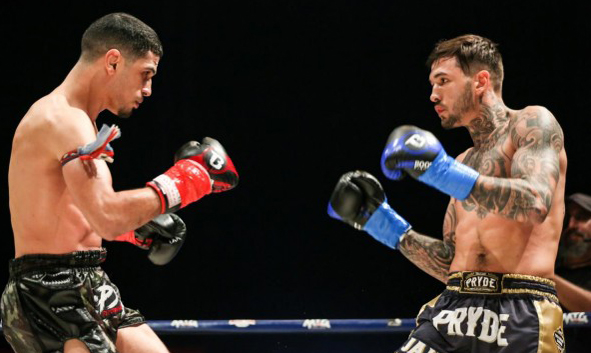 The inaugural Yas Island Muay Thai Championship, brought to Abu Dhabi by Emirates Hospital, came to an exciting finish, with leading international Muay Thai legends showcasing an action-packed evening, full of surprises and closely fought matches. Youssef Boughanem from the main event was crowned the Yas Muay Thai Champion of 2018.
Organised by Flash Entertainment, the night of November 23rd reinforced Abu Dhabi's position as a global sporting hub, as hundreds of Muay Thai fans cheered on for their favourite fighters. The du Forum in Abu Dhabi's Yas Island came alive with 8 adrenaline-packed fights; co-main, main and undercard bouts featuring 16 of the best competitors, enthralling the audience and reinforcing the essence of Muay Thai; fight to the finish, with discipline and attitude. The eight winners of the event showcased a heady mix of clinching action combined with alertness and agility, throughout the fights.
Antoine Gholmieh, VP Projects, Flash Entertainment, said: "We are delighted by the enthusiastic response to the inaugural Yas Island Muay Thai Championship here in Abu Dhabi. This is the first international level championship to be held in the UAE capital by Flash Entertainment and we are pleased to have provided some unforgettable moments, as fans from the country and the region united to ensure the success of the event."
The Yas Island Muay Thai Championship comprised of two main fights and six undercard bouts featuring: - Jake Purdy from the UK vs Youssef Boughanem from Morocco - Somchai Lueamlam from Thailand vs Jack Kennedy from the UK - Ahmed Hussain Mohamed Khalil Al Khoory from the UAE vs Mohamed Ahmed Elmarghani from Egypt - Mohanad Ghassan Hussein from Jordan vs Valentin Thibaut from France - Walter Gonçalves from Brazil vs Pedro Ruiz from Spain - Jussi Santalahti from Finland vs Fernando Groenhart from The Netherlands - Salimkhan Ibragimov from Russia vs Jose Manuel Hita Rodriguez from Spain - Ilyass Chakir from Morocco vs Nicolas Mendes from Senegal The main fight, which featured the biggest names of Muay Thai, saw World #7 Youssef ' The Terminator' Boughanem, crowned as the champion, defeating Jake 'Pretty Boy' Purdy in an exhilarating knockout in the second round; it was a round that saw some of the fastest and most daring action ever seen in Abu Dhabi. In the co-main event, Jack Kennedy won by unanimous decision over Somchai Lueamlam in a closely fought match that pitted strength and speed against agility and quick thinking.
Follow Emirates 24|7 on Google News.