Mum's the word as Brazilian club bid to curb violence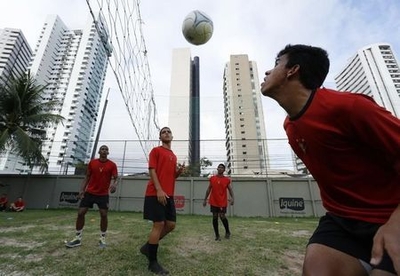 A Brazilian soccer club has employed fans' mothers to act as stewards in the hope it will discourage supporters from fighting.

Sport Club do Recife trained around 30 mothers for Sunday's derby against Nautico and put them to work patrolling the pitch perimeter dressed in high visibility vests bearing the words 'Seguranca Mae', or 'Security Moms' in Portuguese.

Their presence was highlighted on big screens before and during the game in a bid to make fans aware of their presence.

The club said the mothers got the same training as all security officials and volunteers working at the game, one of the biggest derbies in Recife.

"The idea was to make the most fanatical supporters aware and help in some way to bring peace to stadiums," Aricio Fortes, vice-president of Ogilvy, the PR company that dreamt up the idea, told Sport's website.

"At the end of the day, no one wants to fight in front of a mother, especially his own."

Sport won the match 1-0 and the club said there were no arrests. Recife is one of Brazil's soccer hotbeds and fan violence there has been endemic in recent years.

This is not the first time Sport and Ogilvy have collaborated. In 2013, Ogilvy ran an award-winning campaign to encourage Sport fans to sign up for organ-donor cards.
Follow Emirates 24|7 on Google News.