Murray, Djokovic and Nadal back Pique's 'World Cup' plans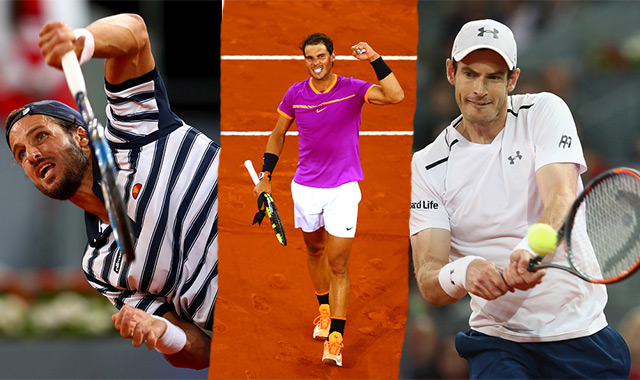 Spanish footballer Gerard Pique's idea of a week-long men's tennis world tournament rivalling the Davis Cup has received support from leading players Andy Murray, Rafa Nadal and Novak Djokovic.
Pique was at the Madrid Open earlier this week, reportedly to discuss a 16-team knockout tournament with ATP Tour chief Chris Kermode. It would potentially replace the former World Team Cup event on the ATP calendar that was played from 1975 to 2012 ahead of Roland Garros.
The current Davis Cup format, featuring three-day matches spread over weekends in February, April, September and November, has led to withdrawals from the sport's biggest names in order to focus on grand slam preparations.
"I think that it's a really exciting idea. If it comes off, I think it would be a very, very good thing for tennis," Murray, a 2015 Davis Cup winner with Great Britain, told reporters.
"I think there's still a lot of things that need to be worked out before it potentially happens, but I think it would be a very good thing."
Nadal also came out in support of his compatriot's initiative.
"I know from a long time there was a group (with Pique) that wants to create a World Cup that would be a great and very interesting tournament to compete in," the 14-time grand slam champion said.
Despite several absentees, the International Tennis Federation has been reluctant on changing the format of the Davis Cup, with players also having to make themselves available for at least four matches in a four-year cycle to qualify for the Olympics.
World number two Novak Djokovic, however, warned Pique in his dealing with the "complex" structure of the sport's governing bodies.
"The tennis world is complex...there are many different governing bodies and many different associations that have the control over certain aspects of the game or tournaments," the 29-year-old Serbian said.
"The schedule is also quite complicated."
The new world tournament could also compete with Roger Federer-led Laver Cup which will be played for the first time in Prague from Sept. 22-24.
Follow Emirates 24|7 on Google News.