Nadal crushed by latest injury setback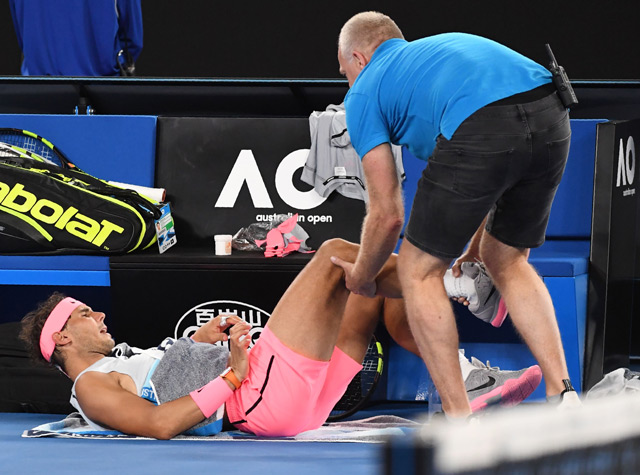 Rafael Nadal called on tour organisers to do more to halt injuries to top players after heartache at the Australian Open as he pulled out of his semi-final on Tuesday.
The Spanish world No.1 retired with a muscle injury in his upper right leg while trailing 0-2 to former US Open champion Marin Cilic in the fifth set of a titanic quarter-final struggle on Rod Laver Arena.
It is the second time he has been forced to pull out with injury in Melbourne after calling it quits in the third set of his 2010 quarter-final against Andy Murray with a knee problem.
The look on Nadal's face said it all as he came to terms with missing a big opportunity to go after his 17th Grand Slam title after looking impressive in his early round matches.
"Tough moments. Is not the first time an opportunity that is gone for me," he told reporters.
"I am a positive person, but today is an opportunity lost to be in the semi-finals of a Grand Slam and fight for an important title for me.
"This has already happened to me a couple of times in this tournament and it's really tough to accept, especially after a tough December when I missed starting the season in Abu Dhabi and then Brisbane."
Nadal went into the year's opening Grand Slam tournament with knee concerns, but ironically that wasn't the problem that finally brought him undone in the heat of battle with Cilic.
"I was playing okay. I was playing a match that anything could happen: could win, could lose. He was playing good, too," Nadal said.
"But I was fighting for it. I was two sets to one up. Yeah, just have to accept, recover, go back home, stay with my people and keep going. That's all."
Nadal said his problem was not hip-related, more a muscle issue high up on his right leg.
"I can't tell you exactly the muscle. It's high on the leg. Tomorrow we're going to communicate what's going on after a MRI scan," he said.
"Now is not the moment to say what's going on because we really don't know and the doctors really don't know yet."
Nadal said tour organisers had to do something about the growing number of injuries among players after the withdrawals of Andy Murray and Kei Nishikori before the tournament and Novak Djokovic struggling ahead of his exit on Monday.
"Somebody who is running the tour should think a little bit about what's going on. Too many people are getting injured," Nadal said.
"I don't know if they think a little bit about the health of the players. I don't know if we keep playing on these very hard surfaces what's going to happen in the future with our lives."
Nadal said he was having no problems with the knee that forced him out of lead-up tournaments in Abu Dhabi and Brisbane.
"I was playing three hours 50 minutes the other day. Today I was playing over three hours. I was running quite well."
Cilic into Open semis as injured Nadal retires
Marin Cilic made his second Australian Open semi-final after world No.1 Rafael Nadal retired with a leg injury during a titanic struggle on Tuesday.
The world No.6 and former US Open champion won 3-6, 6-3, 6-7 (5/7), 6-2, 2-0 in 3hr 47min on Rod Laver Arena when Nadal pulled out in pain early in the fifth set.
He will play Britain's unseeded Kyle Edmund in an unexpected semi-final match-up on Thursday.
It was the second time Nadal has retired at the Australian Open after quitting his quarter-final win against Andy Murray in 2010 with a knee injury.
Cilic's first Australian semi-final came eight years ago when he lost to Murray.
Nadal was leading two sets to one before he called for the trainer and received a medical timeout trailing 1-4 in the fourth set.
He received treatment for an upper right leg injury and upon resuming his mobility was greatly affected and he lost the fourth set before calling an early end after losing a service break at 0-2 in the fifth.
"It was an unbelievable performance from the both of us and it is really unfortunate for Rafa, he's an unbelievable competitor, always gives his best and it's very unfortunate to finish this way for him," Cilic said.
"I guess in the pre-season he had some troubles with the injuries, but he came here prepared really well. He played a very good tournament. Obviously very sad for him to finish the way he did."
- High-level -Cilic, who is coming off an outstanding 2017 where he lost to Roger Federer in the Wimbledon final and made the quarter-finals at Roland Garros along with climbing to a career-high ranking of four, said he was delighted with his form.
"Even in these other matches before this one, I played great tennis. Very high level," he said.
"I was always in the process where I want to keep going with my own game and try to lift up, keep pushing as much as I can. So I am extremely pleased with the performance."
Before Nadal's setback it had been a match of high quality, with Nadal edging ahead after a fluctuating third set tiebreaker.
Cilic was incensed to receive a time violation warning while serving down two break points and came up with a double-fault for a break at 2-3 in the second set.
But the Croat reeled off two service breaks and levelled the match 6-3 with an ace.
Nadal won a mighty tussle for the third set lasting 72 minutes which went to a tiebreaker.
The world No.1 held set point at 5-4 before Cilic held and in the tiebreaker a couple of Cilic misses gave Nadal his second set point which he took with an ace.
But Cilic would not be denied and he broke Nadal's serve in the fourth game of the fourth set, racing to a 4-1 lead.
Nadal took his medical timeout to seek treatment for his leg injury before resuming, but with difficulty.
Cilic broke him a second time to take the match into a fifth set but with Nadal noticeably limping between points, the Spaniard eventually walked to the umpire and conceded.
Cilic served 20 aces, with a fastest serve clocked at 215km/h (165 mph) and broke Nadal's serve five times, as well as hitting 83 winners and making 62 unforced errors.
Follow Emirates 24|7 on Google News.