Nadal eyes 11th French Open title as clock ticks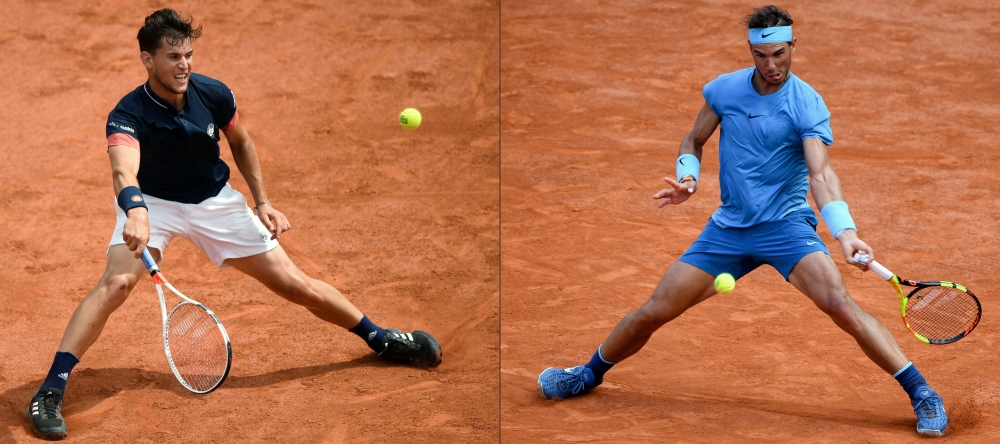 Rafael Nadal admits that his desire to clinch an 11th French Open title on Sunday is fired by his growing realisation that the end of his career may not be too far away.
The 32-year-old Spaniard, with 16 majors to his name, will play his 24th Grand Slam final at Roland Garros against Dominic Thiem who is in his first.
Victory on Sunday will give Nadal an 11th title in Paris and equal Margaret Court's all-time record for wins at the same Slam event - in her case, the Australian Open from 1960 and 1973
Nadal still trails great rival Roger Federer by four major titles although the Swiss star is more than four years older.
"For me, the motivation to play here always is high, high as possible," said Nadal after breezing past Juan Martin del Potro 6-4, 6-1, 6-2 in Friday's semi-finals in what was his 85th win in Paris against just two defeats.
"But for me, I believe that there are limited chances in your career.
"I have lost a lot of opportunities through injuries, and I know the years are going quick. So there is not 10 more chances to keep playing here."
The statistics illustrate Nadal's concerns - he has missed at least eight Slam tournaments in his career through a legacy of wrist and knee problems.
Such is his motivation to win his 17th Grand Slam on Sunday, that the task facing Austrian 24-year-old Thiem was described as "almost impossible" by Del Potro.
The Argentine believes that Nadal is playing better than he has for years.
"It is almost impossible to beat Rafa," said Del Potro who had his chances in the semi-final but failed to convert any of his seven break points before his challenge petered out into weary hopelessness.
Nadal raced away with 14 of the last 17 games.
"He's too strong. He's improving his backhand a lot. That's why he's the No. 1 and beating all the guys.
'He is fresh, healthy. Everything is perfect'
"He looks fresh. He is healthy. And the strength that he has and the mentality, everything is perfect, works perfect for him playing on clay."
There have, however, appeared to be one or two chinks in his armour at Roland Garros this year.
On Friday, del Potro was by far the better player in the first set while, in the quarter-finals, Diego Schwartzman won the first set of his clash with Nadal.
It was the first time in three years that Nadal had dropped a set in Paris.
"You can win a set, but not a match against Rafa," said Del Potro keen not to over-egg any hint of weakness in Nadal's game.
At least Thiem has in the past found the key to unravelling the Nadal clay court enigma.
He is the only man to beat the world number one on clay in the last two years - in Madrid this spring and in Rome last year.
In Madrid, Thiem thrived in the quicker, higher altitude conditions to win their quarter-final in straight sets.
But that was only after Nadal had allowed him just two games in a last-eight mauling in Monte Carlo.
In Madrid, Thiem said the key was to be positive against Nadal.
"If I want to beat him, I have to play that way like I did in Rome and in Madrid. But I'm also aware that here it's tougher," said Thiem, the first Austrian in a major final since Thomas Muster won in Paris in 1995.
"He likes the conditions more here than in Madrid, for sure. Best of five is also a different story."
"But I have a plan."
Nadal and Thiem have met nine times - all of them on clay.
Thiem also defeated his rival in Buenos Aires in 2016, joining Novak Djokovic and Gaston Gaudio as the only men to have beaten Nadal three times each on clay.
However, Nadal has won both their clashes at Roland Garros - in 2014 and in last year's semi-finals by a comfortable 6-3, 6-4, 6-0 margin.
"I'm facing Rafa so I'm not the one who has the pressure," said Thiem.
Follow Emirates 24|7 on Google News.