NBA shocker: Curry cooks up LeBron's worst defeat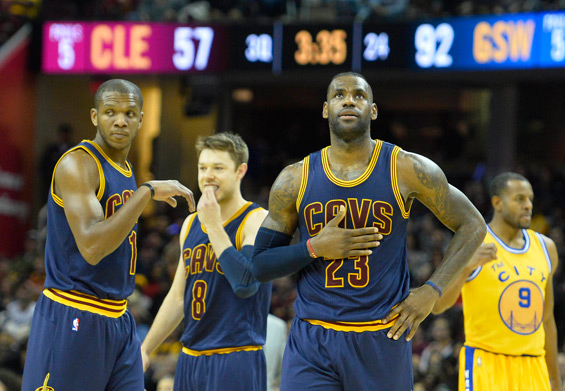 Steph Curry scored 35 points as the Golden State Warriors dished out the heaviest home defeat of LeBron James' career with a 132-98 pummeling of the Cleveland Cavaliers on Monday.
The eagerly anticipated rematch between the reigning NBA champion Warriors and last year's beaten finalists turned into a night to forget for James and the Cavaliers as Golden State ran riot.
Curry was tormentor-in-chief as he returned to the stadium where he helped the Warriors clinch last year's NBA title.
The silky-skilled 27-year-old point guard had reportedly angered certain Cavaliers players in the build-up by joking that he hoped the locker room "still smells a little bit like champagne."
But any plans the Cavaliers had to make Curry regret his choice of words were torn up within a few minutes of the tip-off. The Warriors raced into an early lead and never looked back.
By the fourth quarter, the Cavaliers trailed by a mammoth 43 points -- the largest deficit James has faced at any point in his 1,127-game career.
The 34-point loss was the heaviest margin of defeat James has suffered in a home defeat, according to ESPN Statistics.
The dominance of the Warriors proved too much for James at one point, with the superstar losing his composure in an off-the-ball tussle with Curry who ended up being grappled to the floor.

'A good message'
James finished with 16 points but his personal tally was an irrelevance on a night which finished with dejected Cavaliers fans leaving Cleveland's Quicken Loans Arena well before the end of the game.
Curry received able backing from Andre Iguodala with 20 points while Draymond Green chipped in with 16 points, including 10 assists.
A satisfied Curry said the win would remind the Warriors of their potential.
"It's a good message that we sent to ourselves - this is what we're capable of," Curry told ESPN.
"We bring the energy, we get the game to our pace, take care of the basketball, make shots and play well.
"We've got a high IQ on this team - and we move the ball and look for the best shot on every possession. We're tough to beat."
The win saw the Warriors improve to 38-4 for the season while the Cavaliers went to 28-11.
Elsewhere on Monday, Pau Gasol scored 31 points as Chicago overcame the disappointment of Joakim Noah's season-ending injury with a 111-101 win over the Detroit Pistons.
The Spanish star also contributed 12 rebounds, while Derrick Rose added 20 points with Jimmy Butler contributing 16 points and nine assists.

Emotional practice
The game was Chicago's first since Noah suffered a dislocated left shoulder on Friday, an injury expected to leave him sidelined for four to six months, ruling him out of the rest of the regular season and possibly the playoffs.
Gasol said Chicago had consciously sought to block out the disappointment of losing Noah to a season-ending injury.
"We spoke about it in practice emotionally after knowing Jo's going to be out for a while, if the team was going to notice it or feel it in this game," said Gasol, who also had three assists and three blocks.
"I think the team did a good job just focusing in, playing and competing and getting a huge win. It speaks a lot for our team, about our concentration and where our minds are at."
In Charlotte, Kemba Walker scored a career-high 52 points as the Charlotte Hornets downed the Utah Jazz 124-119 in double overtime.
Walker's final haul was a franchise record for Charlotte and also marked the first time any Hornets player had topped 50 points in an NBA game.
The 25-year-old New Yorker said he had set out to be more aggressive.
"When I had my shots, I was just trying to be aggressive and take them.... and they were falling in," Walker said.
Follow Emirates 24|7 on Google News.