One jewel missing in Queen Serena's tennis crown - Dubai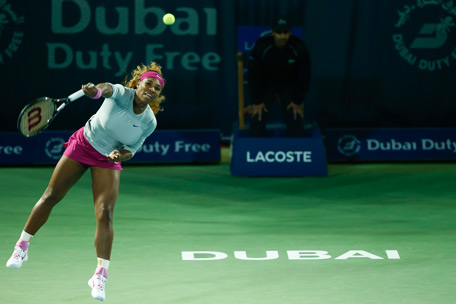 Superstar Serena Williams has high hopes of finally laying claim to one of the few tennis trophies to have so far eluded her in a record-breaking career.
and features not only world number one Serena Williams, but Wimbledon finalist Garbine Muguruza, 2015 WTA Finals and 2016 Shenzhen champion Agnieszka Radwanska, and former world number ones Ana Ivanovic, Caroline Wozniacki and Jelena Jankovic.
The 34-year old, who next month will equal Steffi Graf's record of spending three uninterrupted years as the world number one - is currently in Melbourne chasing a staggering 22nd Grand Slam singles title.
So far she has been unable to count the Dubai Duty Free Tennis Championships crown among her lengthy list of achievements.
Her four previous visits to the Emirates have ended in failure.
In 2005 an injury forced her to retire during her semi-final with Jelena Jankovic, and in a dramatic 2009 semi-final she was defeated in a final set tiebreak by sister Venus. She returned to Dubai in 2013 but had to default her opening match, and in 2014 she suffered a shock semi-final defeat by Alize Cornet.
"It is remarkable that a player of the calibre of Serena Williams has so far failed to even reach the final of the Dubai Duty Free Tennis Championships, despite several attempts to add one of the most sought after trophies in the sport to her portfolio," said Colm McLoughlin, Executive Vice Chairman of Dubai Duty Free.
"That is an indication of the strength of competition at one of the most popular tennis tournaments in the world. No one is guaranteed success no matter how high their standing in the game, and it will be interesting indeed to see if Serena can this year join her sister Venus, who is a three-time champion, as a winner here."
In 2015 Serena came desperately close to claiming a rare calendar year Grand Slam when, after winning her sixth Australian Open title, her third French Open crown and sixth Wimbledon she fell victim to Roberta Vinci in the semi-finals of the US Open in what is considered by some to be one of the biggest upsets in the history of the sport.
Whatever the outcome of her challenge, Serena is looking forward to her return. "I like Dubai. It's a great place to come," she said.
"You know, what I like most about it is just the city. I go to a restaurant, and I see a guy and he's like, I'm from New York. And another guy, they are all staff, and he's from London. Another guy is from Nigeria. Another guy is from Asia. And it's an incredible mix of people from absolutely everywhere in the world. It is a beautiful, beautiful thing. Everyone is just treated the same, so it's just great. I love it."
Tournament Director Salah Tahlak has no doubt that this could be the year that Serena finally adds Dubai to the lengthy list of cities where she has triumphed, saying: "Serena is such a champion that it is always a major surprise when she fails to win a tournament. With so much success elsewhere over so many years it is surely time that she is able to follow in her sister's footsteps and hold the trophy aloft on finals day."
Play in the Dubai Duty Free Tennis Championships begins with the WTA event and takes place between February 15 and 20.
Tickets for the event are on sale at the Box Office at the Dubai Duty Free Tennis Stadium, which is open from 9am to 9pm daily and online.
Follow Emirates 24|7 on Google News.