24 Hours of Dubai gets bigger and better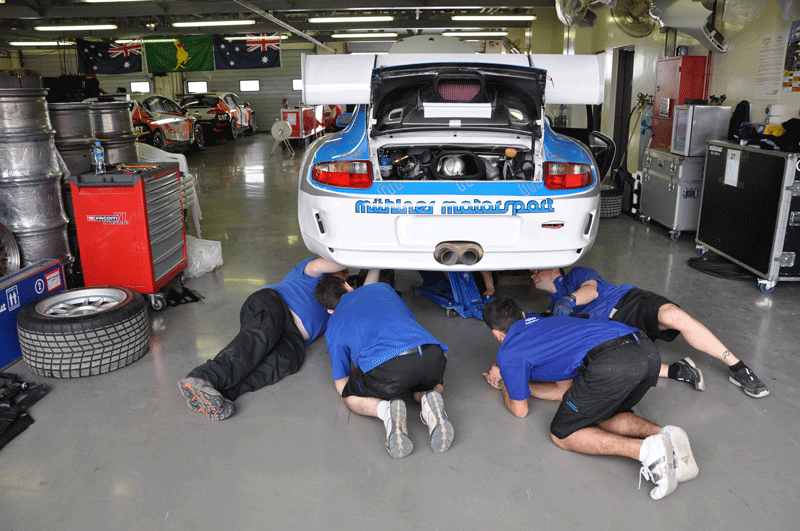 Dubai Autodrome is a hive of activity as over 100 containers of racing equipment is unloaded and packed into pit garages at the circuit in preparation for this weekend's Dunlop 24 Hours of Dubai.
Over 400 drivers will be in action during the course of the race including Emirati Khaled Al Qubaisi who will line-up with one of the teams favoured to take top honours. "I am proud that we are the first team in endurance racing representing the Emirate of Abu Dhabi," he said.
"Together with my driver colleagues and the team, I am sure that we can finish among the top teams. Endurance racing marks the pinnacle of sports car racing and I am excited to make this next step," he added.
Al Qubaisi will be driving the Tolimit Arabia Porsche with vastly experienced trio of Sascha Maasen, Jeroen Bleekemolen and Sean Edwards.
This year's sixth running the endurance race in Dubai will be the biggest one yet, with a full grid of 90 teams from 19 countries.
In terms of competing marques Porsche has the largest presence with 20 cars, followed by BMW with 15 cars, Renault with nine cars and SEAT with eight.
Competition for top honours and to dethrone Porsche who have dominated the event in recent years, is likely to come from the likes of Ferrari, Lamborghini and Mercedes who all boast very good teams with strong drivers.
Other cars on the grid include Mosler, Gomez Competition, Brokernet, Ford, Corvette, Audi, Ginetta, Aston Marton, Lotus, Donkervoort, Saker, Opel, Honda, Mini and Volkswagen.
For Dunlop Motorsport, who provide all the tyres for the 90 competing teams, the sixth edition of the race is a history making affair as the event has demanded the biggest logistics undertaking ever for the tyre manufacturing organisation.
They will be supplying over 6,500 tyres for the race, which required 14 shipping containers and 38 skilled tyre technicians to service the cars.
Gary Wassell, Car Motorsport Manager, said of the operation to get Dunlop to Dubai for the race: "It is our single biggest ever logistics operation in the century-long history of Dunlop Motorsport. We will be taking 74 different specifications of Dunlop tyre to cater for the incredibly diverse grid of cars."
The event will be televised in a highlights package in more than 150 countries and begins on Thursday with practice and qualifying.
Dubai Autodrome Chairman Saeed Khalfan will flag off the field at 2pm on Friday and the chequered flag will be waved for the winner 24 hours later.
Follow Emirates 24|7 on Google News.