Abu Dhabi Racing drives new Citroen bid for WRC glory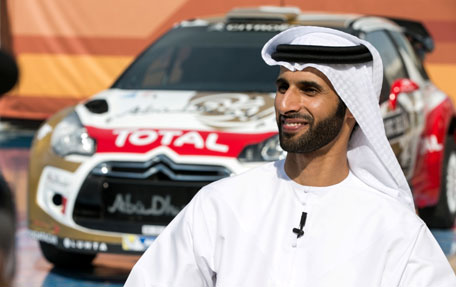 Abu Dhabi's three-year partnership with eight-time World Rally Championship (WRC) manufacturers winners, Citroën Racing, begins in earnest this week as French ace Sebastien Loeb launches his bid for a seventh victory in the legendary Monte Carlo Rally, the opening round of the 13-event season.

Loeb's participation marks the start of a momentous first season for the recently-established Abu Dhabi Racing (ADR), which has created the UAE capital's new partnership with Citroen on the WRC stage as part of a concentrated programme designed to reinforce the emirate's global motorsport stature.

The UAE's Sheikh Khalid Al Qassimi is central to the initiative, both as ADR Chairman and as the main driver in Abu Dhabi Citroën Total World Rally Team.
In addition to running a nine-event WRC campaign, Al Qassimi will also spearhead a five-car assault on the FIA Middle East Rally Championship which starts later this month in Qatar.

While Al Qassimi must wait for February's Rally Sweden to make his long-awaited WRC return, Loeb and co-driver Daniel Elena, backed by flying Finn Mikko Hirvonen and Jarmo Lehtinen, will pilot Citroën Total Abu Dhabi World Rally Team's debut through the treacherous snow and ice-coated roads of Monte Carlo's winter.

With Hirvonen contesting all 13 nominated championship events, the Monte Carlo Rally represents one of only four WRC appearances this season by Loeb, who has retired from full-time competitive rallying after winning nine consecutive WRC drivers' titles. He will alternate in the second DS3 WRC this season with Spain's Dani Sordo.

In the season opener, Sordo and co-driver Carlos del Barrio will chase points for Abu Dhabi Citroën Total WRT - the second team created by the new ADR- Citroën Racing partnership - in another DS3 WRC.

With Al Qassimi taking the wheel of a fourth DS3 WRC in Sweden, he will be following this week's Monte Carlo event with enormous interest and expectation.

"We see this as the start of a new era for Abu Dhabi in world rallying and I'm very excited by what lies ahead," said Al Qassimi. "I'm very happy to be getting the chance to return to action in the WRC but the bigger picture is that this is a unique opportunity to carry the Abu Dhabi brand to a worldwide audience.

"The emirate is already well known as one of the world's top venues for Formula 1 racing and for other events held at Yas Marina Circuit. Now we have linked up with the most successful works team in WRC history and opened up another exciting avenue for UAE motorsport and Emirati drivers."

In the first test for the three new Abu-Dhabi-branded Citroen DS3 WRCs, the Monte Carlo Rally gets under way from Valence with four special stages.

Ice and snow are expected to play a big part, making tyre choice critical en route to the finish on Saturday.

In total there are 465km of timed stages and no pair is better prepared for the challenge than Loeb and Elena, who begin their 'testimonial' year with one of their favourite rallies, ten years after their debut Monte Carlo win.

"They've had an amazing run of success and it would give us a wonderful start to the season if they could take an Abu Dhabi-branded car to victory on what looks like being their final Monte Carlo appearance," said Sheikh Khalid.
Follow Emirates 24|7 on Google News.