Abu Dhabi to host World's Strongest Man event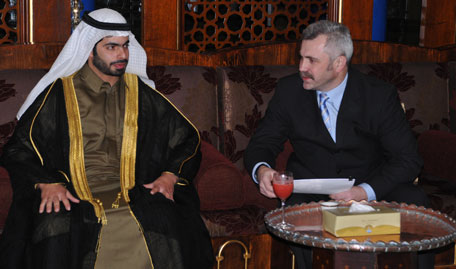 Abu Dhabi is set to stage the World's Strongest Man (WSM) Championship from February 10 to 15 under the patronage of Sheikh Hamdan bin Mohammed bin Hamdan Al Nahyan at Khalifa Park.
More than 90 of the strongest athletes from 45 countries are expected to compete for the world's 'strongest man' event to be held under the slogan 'Peace Championship'.
Created in 1977, the WSM has become the premier event in strength athletics.
For over 30 years, the strongest men on the planet have come together in a series of unique and amazing tests of strength to determine the World's Strongest Man. The competition has travelled to stunning and varied locations such as Zambia, Iceland, Mauritius, Malaysia, Morocco, China and the USA.
This competition is coming for the first time to the UAE.
The winner of the competition will receive a Dodge car and the runner up a bagful of goodies comprising 100g of gold, computers, watches, phone and many other gifts. Those athletes placed among the top 10 will also receive handsome awards.
The details of this event were announced at a press conference held at Abu Dhabi Armed Forces Club in the presence of Sheikh Hamdan bin Mohammed bin Hamdan Al Nahyan, the sponsor of the event.
Others present were Mohammed Shaheen Al Hosni (Emirates Bodybuilding Federation), Abdul Aziz Hosan (General Authority of Youth Welfare and Sports), Obaid Al Hosan (Director of Public Relations and Protocol of the National Olympic Committee), Talib Al Katiri (Tournament director) and Talal Al Hameeri (Chairman of the Higher Organising Committee for the championship).
Velad Readkin, President of the WSM federation, Abdullah Al Amiri (President of the Asian body of WSM) and Kamal Mehdi (Asian body official) are all members of the organising committee.
Hosni said Osama Ahmed Shafar, president of the EBBF and his fellow board members were in readiness to provide the requirements for the success of this tournament such as technical personnel and necessary equipment.
Al Hameeri thanked EBBF for the supervision of this sporting event which would raise the international standing of UAE int he sporting world.
Syed Kamal Mehdi said it would bring together strongest stars of the sport to Abu Dhabi.
Follow Emirates 24|7 on Google News.