ADCB claims Emirates Open Polo title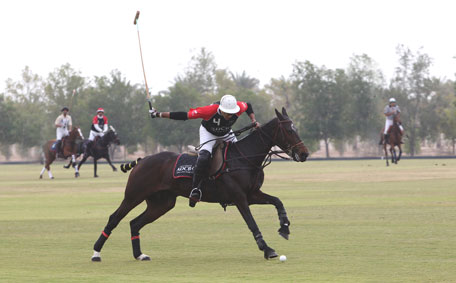 Hugo Barabucci scored four goals to help his team lift the trophy in the Emirates Open Polo Championship at Ghantoot Racing and Polo Club on Friday.
ADCB had been unbeaten during the preliminary rounds of the tournament, and the side continued their imperious run of form on the big day.
Barabucci opened the scoring with two goals in the first chukker and followed up with two more in the second. Emirates had no reply and were then faced with an uphill battle to claw their way back into contention during the remaining two chukkers.
Gonzalo Azumendi was able to score Emirates' solitary goal in the third chukker, but the side could not capitalise on that momentum, failing to get the ball between the posts for the remainder of the match.
To add insult to injury, the freely-scoring ADCB had more pain to inflict on Emirates, with Emirati player, Abdulla Bin Desmal, and Argentina's Jorge Cernadas both claiming a goal each in the fourth chukker.
The final score stood at 6-1 to ADCB.
Afterwards Barabucci, named Most Valuable Player, said he was proud of his team.
"It was very important to us that we would be able to play in the final the same way we had all the way through this tournament," said the Argentine ace. "We had put in strong team performances and we really wanted to sustain that even in the pressure of a final.
"I think that every match in this tournament has been of a very high standard and winning here is really gratifying and shows that all our hard work in training has paid off."
The polo final came in the middle of a busy weekend for Ghantoot Racing and Polo Club.

Ghantoot is now gearing up for the venue's season-ending tournament, the President of the UAE Polo Cup, which gets underway on March 14.
The grand final, the most important date on the Ghantoot calendar, will take place on March 30.
Ghantoot Polo Team will be back in action from February 25-March 9 in the Dubai Gold Cup polo series. The Abu Dhabi side will be flying the flag for the UAE's capital when they take on a number of Dubai polo outfits.
Follow Emirates 24|7 on Google News.