Al Hassan ups ante in Dubai Bowling tournament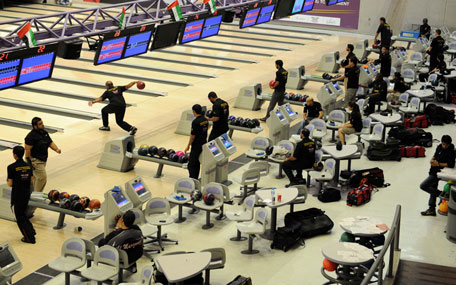 Defending champion Shaker Ali Al Hassan rolled the highest series of the day, but fell short of topping the leaderboard at the end of the second day of qualifiers in the Open competition at the 3rd Dubai International Bowling Tournament at the Dubai Bowling Centre late on Sunday.
The tournament is organised by the UAE Bowling Association with the support of the Dubai Sports Council.
Al Hassan, the winner of the second edition last year, came up with a superb effort in the third series of the night for a score of 760 to stay in fourth place on the second day of qualifying.
The Open competition is being led by Fahad Falah, who was in third place on the opening day on Saturday, followed by Adel Al Marzooki in second and Filipino Roland Detaro who slipped to third after being placed second the previous night.
Falah had series of 633, 661 and 648 for a total pinfall of 1,942 and an average of 215.78, leaving Al Marzooki in second with an average of 214.44 and Detaro with an average of 211.33. Al Hassan's pinfall of 1,891 for an average 210.11 cemented him the fourth position while overnight leader Basil Saeed Bilal was in fifth.
Meanwhile in the under-23 competition, Great Britain's Samantha Hannan maintained her lead with series of 568, 682 and 712 for an average of 218.0. Mohammad Mahmoud Al Janabi is in second and Ahmad Abdullah Al Mahri in third.
There is a total prize fund of Dh300,000 for both categories besides the event being a ranking tournament on the Asian Bowling Federation (ABF) calendar towards World Ranking Masters Final organised by the World Ten-Pin Bowling Association (WTPBA).
The tournament is sponsored by SuperPrice Rent A Car, Mars Digital Printing, French Bakery, Grand Service Station, La Marquise Coffee and Grand Capital.
Follow Emirates 24|7 on Google News.