Ali Al Kaabi takes top prize in Yas Pro Drag Racing Series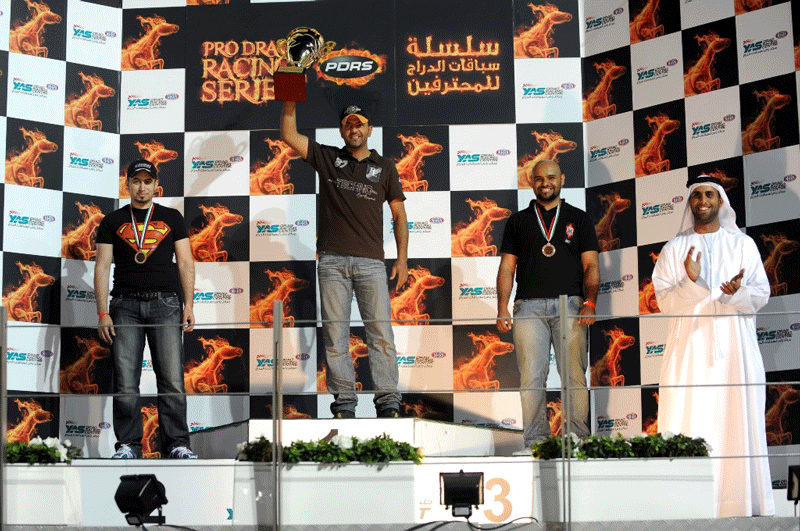 Ali Al Kaabi driving his black Cavalier won the top prize of Dh50,000 in the Pro Drag Racing Series at Yas Marina Circuit on Saturday with an elapsed time of 3.90 seconds and a terminal speed of 303 km/h in the Pro Mod class.
The races were run over one eighth of a mile (201 metres) rather than the usual quarter mile (402 metres) due to the aftermath of a heavy sand storm in the area.
Surprise performance of the night came from Fadi Tammour, who had just graduated from the Yas Drag Racing School earlier in the week to gain his National Hot Rod Association (NHRA) licence.
Driving one of the new Yas Super Comp dragsters, he won the 4.80 Super Eliminator class with time of exactly 4.80 seconds at 225 km/h to win Dh20,000.
"This was a great performance by Fadi," said Rashed Al Qubaisi, head of the Yas Drag Racing Centre. "To win your first race in a Super Comp just days after qualifying to drive it is an incredible result."
Al Qubaisi said he was very pleased with the success of the event, which attracted leading drivers from across the GCC.
It was the first of four races in the Pro Series, with the ultimate series winner taking away Dh1 million in prize money.
"I would like to congratulate the winners of all seven classes," he said. "We look forward to welcoming them back again for the second round, which will take place on 4-5 March 2011 as part of our Drag Racing Festival. "
Results
Pro Modified
Winner –A. Al Kaabi, ET 3.90 seconds, 303 km/h
Runner-up –K. Ali, ET 4.02 seconds, 295 km/h
Super Street 8
Winner – H. Mohammed, ET 4.94 seconds, 227 km/h
Runner-up – A. Abdulla, Stage Foul (no time and speed)
Pro Bike
Winner – M. Bourashid, ET 4.20 seconds, 259 km/h
Runner-up – A. Al Nukhilan, ET 4.48 seconds, 252 km/h
Outlaw 10.5
Winner – H. Mohammed, ET 5.94 seconds, 206 km/h
Runner-up – Y. Al Ali, ET 12.26 seconds, 93 km/h
Street Bike
Winner – M. Al Turki, ET 4.76 seconds, 248 km/h
Runner-up – F. Al Hamoud, ET 4.96 seconds, 252 km/h
4.80 Super Eliminator
Winner – F. Tammour, ET 4.80 seconds, 225 km/h
Runner-up – H. Mohammed, ET 4.81 seconds, 227 km/h
Pro 6
Winner – F. Abdullah, ET 5.31 seconds, 216 km/h
Runner-up – F. Al Shamsi, ET 5.80 seconds, 212 km/h
Follow Emirates 24|7 on Google News.