Ali-Frazier recalled 40 years later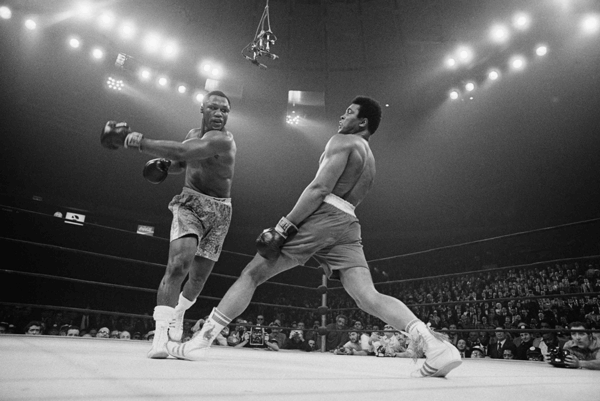 On the 40th anniversary of their epic boxing showdown, Muhammad Ali visited a baseball training camp on Tuesday with a charity message for superstars while Joe Frazier recalled his iconic victory.
Frazier won a unanimous 15-round decision over Ali at Madison Square Garden to keep his world heavyweight crown in what was the first of three battles of the titans, the other fights won by Ali in 1974 at New York and 1975 at Manila.
Ali visited the Chicago White Sox clubhouse at their pre-season training base in Tucson on Tuesday and received a jersey from the Major League Baseball club with the number 40 and 'Champ' where names normally are stitched.
Anticipation was huge for Ali-Frazier in a pre-pay-per-view era where closed-circuit broadcasts and round-by-round radio updates were the fastest ways to find out who won, the internet and portable phones mere fantasies.
Frazier, 67, called his victory over Ali the greatest of his career in an interview with ESPN, noting the taunts Ali had made about Frazier not being a true champion until he proved it in the ring against him.
"He was going around saying how great he was, how pretty he was," Frazier said. "I got him to quiet down some. A little. Not much.
"He said he was God. I said, 'Lord, you're in the wrong place tonight.'"
Ali, now 69 and suffering from Parkinson's disease, was stripped of his heavyweight crown in 1967 after refusing to enlist in the US Army, an anti-war stance that would help make him a sport legend worldwide.
"I went out there and showed him what the country was all about and what Joe Frazier was all about," said Frazier, who taunted Ali by using his former name, Cassius Clay.
"You couldn't listen to anything he was saying. I wasn't going to let it hurt me in any way. I knew what kind of man I was. Let him make all the noise he wants."
Frazier dominated what became known as the Fight of the Century, knocking Ali down in the final round only to have him rise and take more punishment before the final bell.
Ali's wait to reclaim his heavyweight throne would have to wait another three years and wait for Frazier to lose the crown to George Foreman in 1973, stopped in the second round at Kingston, Jamaica.
Ali took a unanimous 12-round decision from Frazier in early 1974 as a prelude to his legendary eighth-round stoppage of Foreman in Kinshasa, Zaire, in what became known as the Rumble in the Jungle.
Frazier and Ali met for the final time one year later in Manila when Ali kept his crown when Frazier would not leave his corner for the 15th and final round, concluding what many consider the greatest trilogy in boxing history.
Ali finished his career 56-5 with with 37 knockouts while Frazier retired at 32-4 with one drawn and 27 knockouts.
Ali famously lit the Olympic flame at the 1996 centennial Atlanta Olympics, where he accepted a replacement gold medal from his 1960 Rome Olympic light-heavyweight triumph.
With wife Lonnie by his side on Tuesday, Ali made a pitch for his 'Athletes for Hope Foundation' to the White Sox and players took advantage of their chance to meet and pose for pictures with a legend.
"It was pretty cool," said White Sox slugger Paul Konerko, who was born five months after the third Ali-Frazier fight. "He is one of the most recognised people on the planet. We're public figures and people know us, but Ali is a whole other ball of wax. It's like meeting a President."
Follow Emirates 24|7 on Google News.