Amir Khan says Alvarez is next 'big thing' after Mayweather and Pacquiao snub [video]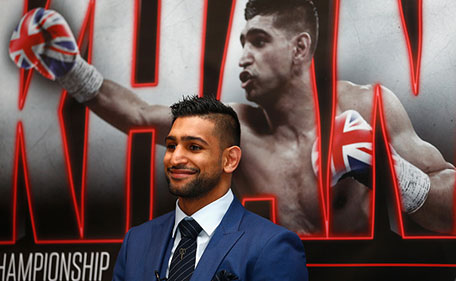 Amir Khan says he didn't want to demand a rehydration clause for his forthcoming fight with Saul Alvarez because he wants to make the biggest possible statement in his first bout above welterweight.
Former world champion Khan will fight above welterweight for the first time in his career at a catchweight of 155lbs, officially middleweight, to challenge Alvarez for the Mexican's WBC title in Las Vegas on May 7.
Given the significant difference in size between challenger and champion when they appeared together in London, it appeared a risky oversight that Khan did not demand a restriction on Alvarez's weight on fight night.
Alvarez's frame means there is little to stop him gaining a further 20lbs after weighing in to effectively compete at light-heavyweight and therefore leaving Khan, the underdog who turned professional as a lightweight, at an even greater disadvantage.
However, the catchweight limit is only a pound over light-middleweight and fully five pounds below the official middleweight limit, meaning it's practically a light-middleweight fight, which is the next division above Khan's welterweight category.
Alvarez has operated at light-middleweight for most of his career but won the WBC title against Puerto Rican Miguel Cotto when two light-middleweights fought at the same 155lbs catchweight for a middleweight belt.
The 29-year-old Khan, a former Olympic silver medalist and light-welterweight worldchampion, will be Alvarez's first opponent since the Mexican beat Miguel Cotto on a unanimous points decision in Vegas in November.
Alvarez, whose nickname Canelo comes from the Spanish word for cinnamon owing to his red hair, has only one defeat on an otherwise unblemished record, a majority decision loss to American great Floyd Mayweather.
"I'm willing to fight the best and Amir Khan's a great fighter, he's a fighter that has a lot of speed, boxing ability, and he's definitely one of the best fighters in the world at the moment. So for me it's an honour to be fighting with him and it's going to be a great event," Alvarez said.
The 25-year-old Mexican admitted that he had been training specifically to counter Khan's speed.
"It does worry me a little bit but that's why I have to train and I have to be prepared for that. I'm focusing on that, on speed and the foot speed as well, so I'm going to be ready for that," he said.
Asked if he expected to stop Khan, Alvarez said he hoped so but was prepared to go the distance.
"You don't look for the knockout it happens naturally so I have to prepare for 12 rounds and I'll be ready for 12 rounds. If the knockout comes it'll come naturally."
Alvarez, whose nickname Canelo comes from the Spanish word for cinnamon owing to his red hair, has only one defeat in 48 fights on an otherwise unblemished record, a majority decision loss to American great Floyd Mayweather.
Khan, who boasts a 31-3 record with 19 knockouts, has not fought since outpointing Chris Algieri in New York last May.
Fights against Floyd Mayweather and Manny Pacquiao never materialised for Khan, who said he was delighted to be fighting the next best thing, Alvarez
"Yes, yes I wanted the Mayweather fight and the Pacquiao fight, them fights didn't happen for me so I wanted the next big thing, the next big thing was Alvarez so we negotiated and got the fight done.
"It is going to be a massive fight, we're both massive names around the world, we're both global stars. Alvarez is big in America, I'm big in this part of the world so it's two parts of the world coming together. It's going to be a massive show."
For the first time he will be fighting at a catchweight 155lbs rather than the 147lbs welterweight limit that he has been fighting at for the last two years.
Khan's best chance comes in using his superior speed and mobility, but he still maintained he hadn't taken an unnecessary risk with the weight issue.
"I wanted to do everything naturally because when I beat him I wanted to beat him fair and square and I don't want people thinking 'he was too dehydrated, he was too small, he couldn't put weight on'," said Khan, who hasn't fought since beating Chris Algieri in May last year.
"I want to beat the best Alvarez, fight the best Alvarez. The fights I've been watching he was really hydrated, and normal, where he was happy making the weight.
"Yeah (we considered a clause), I spoke to Virgil (Hunter, my trainer), and Virgil is the one who said to me 'look, if you're happy with the fight, it's a good fight for us'.
"He's been watching videos (of Alvarez) as well. What I have to do is stick to the game-plan. I can't make any mistakes or be a guy who loses focus or makes mistakes because I can get hurt for that."
Follow Emirates 24|7 on Google News.