'Arabian Warrior' returns to fight in Dubai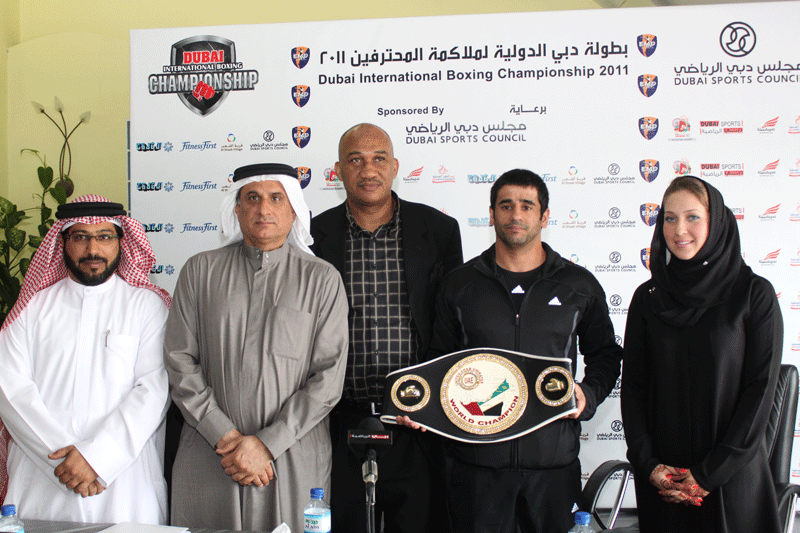 The UAE's lone professional boxer Eisa Al Dah will aim to resurrect his career barely a month after the demise of his father when he features in a seven-card fight night at the Dubai World Trade Centre on February 18.
Unbeaten American welterweight Brad 'The Sultan' Solomon will be the main draw at the Dubai International Boxing Championships organised by EMD Sports Services and supported by the Dubai Sports Council.
Solomon, 27, a three-times National Golden Gloves winner as an amateur, will face Mexican journeyman Victor Hugo Correa in a scheduled 10-round bout.
However, 'Arabian Warrior' Eisa Al Dah will carry the UAE flag when he takes on Spaniard Ignasi Caballero Perez in a four-round welterweight contest for the UAE World Championship belt which is expected to sanctioned by the International Boxing Federation (IBF).
"I have a vision and plan for the future. I want to be a world champion. This is my dream. This is my life. This is my destiny," said Eisa who is dedicating the upcoming bout in memory of his father Mohammed Abdullah Al Dah who passed away on January 20.
"All the time my father, he was here when I started fighting. He was my biggest fan and supporter. Now "I'm fighting for him and will try to do my best," said an emotional Eisa at a press conference held at the Dubai Sports Council on Tuesday to announce the event.
Eisa, 32, who has moved up from lightwelter to welter and has a 6-2 win record, including three knockouts, said it was difficult to focus especially after the loss of someone special.
"I said before I was fighting for UAE. Now, I'm fighting for everybody particulary my father who was proud about me. He used to say to me all the time 'I'm praying for you to be a champion'. I want to show everybody I will do my best because I want to be a world champion in three years and win some of the big belts. I will try my best," he reiterated.
Jesse Robinson, CEO of EMD Sports Services, paid a glowing tribute to the strength and character of Eisa who spurned the opportunity of continuing his boxing in the US after his father fell sick.
"After we did Global Impact in 2008, we could not keep shows in Dubai because boxing was new to the region. We applied for Eisa to come to US at a time when he wasn't able to come to US. So he went to the UK and started fighting in UK and eventually he got a visa and came to the US," he said.
But after returning from a fight in Mexico, Eisa's father fell sick. "I said 'Eisa you now got an opportunity to fight in America. Now you need to keep fighting'. He said 'no Jesse, I can't fight anymore. I have to go back to UAE. He said 'I will come back but I have to go to UAE and take my father to Germany. Make sure he is a 100 per cent. I have to stop fighting now'," related Robinson.
"This is a true son to his father, his country. He dedicated everything he had to his father. He was his true fan and his father would be at the fights. He was so excited when the fight was over he would come into the ring. If anybody knows this situation, come support his kid in honour of his father. He (Eisa) is a true champion outside of the ring as well," said Robinson who organised the first professional boxing bout in the UAE in March 2007.
"We said we would bring championship boxing. We established this belt for the UAE so the world would know about what we started with IBF bringing in diamond and gold belts. We were excited to do something special. Making the first show was a challenge in itself. It was unbelievable," recalled Robinson who succeeded in bringing former world heavyweight champion Michael Moore in 2008.
Now he has plans to make boxing bigger in the UAE by bringing former world heavyweight champion Mike Tyson in the future.
"I know Tyson personally. If I bring Tyson, boxing is going to change in this country because Tyson is boxing. I want to one day bring Tyson here and believe me everybody will know boxing then. If we put those two (Eisa and Tyson) together, it is a great mix. Then boxing will take off like a missile," he said.
Robinson sees Eisa as a champion of the future. "We want to keep building his record. His experience of coming to America and the UK has enhanced him in a great way. To be a champion you have to be around champions. Now this country is new to boxing. So we have to enhance him by bringing champions to the country," he said.
Eisa's training base in the UK is in Bristol, Gloucestershire where he moves around with world champions Amir Khan and Nasem 'Prince' Hamed.
"I want to develop myself and want to do my best to be a champion. It is not easy and it is not coming in one day but I have to do this," said Eisa with determination.
He will be boosted by the expected arrival of reputed trainer Anthony Wilson from the US for the upcoming fight against the tough Spaniard who has a record of five wins by knockout although losing the last three fights.
"He is my main coach, the best coach. I have been with him three months in US and helped me mentally. I need him this time close to me to push me. He changed my level from 2007 until now. I'm growing and have good skills. I want to deliver a new style of boxing this time," he said.
Eisa's last bout was in the US in August last year against Anthony Woods to whom he lost a close points decision 39-37. "It was a very tough fight. I knocked him down in the first round. I was surprise he came back again," said Eisa.
Abdallah Al Dah, Eisa's cousin, said they were planning to have more UAE boxers next time. "We are hoping to improve the level of boxing in UAE," he said.
"We are very proud of him as a person and athlete. It is very hard to host professional boxing in UAE because boxing is not popular here but we are happy to host Eisa Al Dah's fight for the third time," said Abdullah Qassem, Senior Vice-President of Dubai World Trade Centre.
Eisa won both his fights in Dubai against Americans Larry Foster which launched his career in 2007 and David Love the following year.
"The Dubai Sports Council is extremely honoured to partner with Dubai International Boxing Championships. We are proud of the achievements of Eisa Al Dah, the first ever UAE international boxer and we are always looking forward to getting involved with opportunities with events that encourage and support local talented athletes in Dubai," said Hessa Al Kous.
"My goal is to build a UAE champion. Then we can take it to the world. I look at global boxing. If TV or pay per view comes to Dubai, everybody will see it all over the world and also promote the country," said Robinson.
Dubai-based Syrian boxer Abdulmanem Kabbani who has two wins under his belt will fight in the heavyweight class against a yet unnamed opponent.
The other pairings in four-round contests are: 80kg - Abdallah Abou Hamdan (Lebanon) v Eisa Ramezanipaland (Iran), 70kg – Mehdi Ramezani (Iran) v Anan Abdul Rahman (Baghdad), 80kg – Ali Hossein Mardi (Iran) v Sohail William Ahmed Nazzal (Jordan), 63.5kg – Mohamed Akram (Syria) v Mostafa Said (Egypt).
The organisers have priced tickets from Dh150 to Dh650. It is available at Time Out Dubai, Eppco and Enoc station, Zoom, Box Office ME, Spinneys and Virgin Mega Stores.
Follow Emirates 24|7 on Google News.