Badran leads UAE to glory in Firefighter Challenge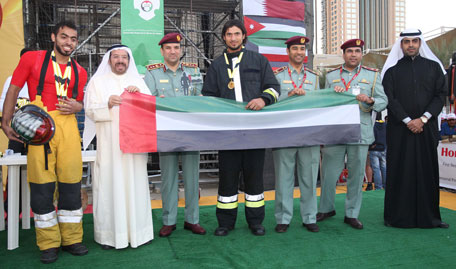 UAE created history at the 4th UAE International Firefighter Challenge when they emerged champions for the first time with record timings.

Held under the patronage of Sheikh Mansoor bin Mohammed bin Rashid Al Maktoum and umbrella of the General Directorate of Dubai Civil Defence, as part of the Intersec Expo at Dubai World Trade Centre, Emirati fighters basked in glory by winning all three categories - singles, double and relays.

The three-day competition attracted firemen from Jordan, Kuwait, Qatar, Germany, Canada, Austria and the hosts battling for a gruelling race against time in what is considered to be the toughest two-minute sport while performing the six essential tasks of firefighting and rescue: stair climb, hose hoist, forced entry, running, pulling the hose and victim rescue.

Badran Al Khouri of UAE Civil Defence was the outstanding performer as he raised the bar on the first day of competition by winning the singles title in a record time of one minute 40.97 seconds.

Competing against Majed Ahmed Nabeel Khalifa of Assetco Fire & Rescue who clocked 2:01.84, 26-year-old Al Khouri won the individual title with his terrific burst of energy.

Two Germans Martin Brieden (1:49.25) and Magnus Hirschfield (1:51.44) representing Challenge Team Germany were the only other competitors to break the two-minute barrier in the singles.

Al Khouri paired with Ahmed Alwan to win the doubles title clocking 1:46.47.

Bader Abdul Sattar Al Mulla and Yousef Jaber Al Qallaf of Kuwait Civil Defence Force had the second best timing of 1:49.25 followed by the German pair of Magnus Hirschfeld and Steffen Link (1:51.44).

But the UAE Civil Defence team reserved their best performance for the last when they won the relay final in a record time of 1:19.22 against Kuwait Civil Defence (1:29.22).

The victorious UAE team comprised Hassan Al Balooshi, Badran Al Khouri, Ahmed Alwan, Hamdan Al Dhaheri and Rashed Houroub.

Assetco Fire & Rescue team won the third place playoff clocking 1:28.59.


"I'm proud to be champion of this international," said Al Khouri from Dubai who has been training hard for this championship.

"I have been improving my timings over the years and did specific training for this competition because it is not like football or volleyball," he said.

"The training for this competition has also helped me in my job as a fireman," added Al Khouri.

UAE Civil Defence team's coach Ahmed Al Fardan said their objective has been to improve the skills of the firefighters.

"We want all to be in a high level. This is our job and this is our target," said Al Fardan who hopes this title will spur everyone in all UAE fire stations.

"If you have example like this (Badran) you can get people to take part in competition. You cannot get such timings without this kind of competition. Last year there was one in Dubai and two in Abu Dhabi. We need more competitions to improve standard," he said.

Another pleasing aspect of this championship is UAE fielded several teams.

"Earlier we had only one. Now apart from UAE Civil Defence Force, there was Assetco Fire & Rescue from Abu Dhabi, Army and Emirates Fire and Rescue Company," he said.

Assetco team were a revelation making an impact after just one month of preparation.

"This is our first time. We are hoping to be winners next time," said coach Yasser Al Ali.

They came third in the relay and fourth in the doubles with their physical trainer Majed Ahmed Nabeel Khalifa being their most outstanding athlete producing the fourth best time of 2:01.84 in the singles.

"UAE beat everybody because they prepared very well for the Challenge. It shows they are preparing for their work as a firefighter and to have the best firefighters in UAE," said Mohammed Al Ahmadi, Managing Director of 911 Firefighting Group who is the architect behind this event.

He was surprised with UAE's dominance at this year's championship.

"For me it was not expected. That means they are really taking it seriously and they want to win every year," he added.

"The standard was very high and the timing is getting better and better every year," said Al Ahmadi, a former fire chief of Dubai Civil Defence.

Colonel Salem Al Muqarrab, Assistant General Director for Prevention and Protection Affairs, said their success was a result of a great team effort.

"We have been preparing for this for the last four years. Our target was to be number one and with hard work and dedicated training we have achieved it," he said.


Follow Emirates 24|7 on Google News.