Bayne becomes youngest Daytona 500 winner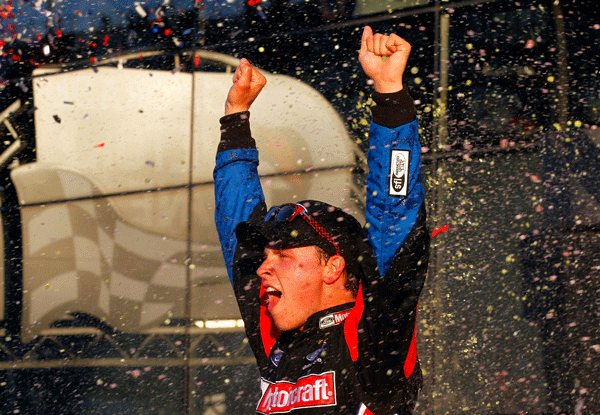 Rookie Trevor Bayne became the youngest driver to win the Daytona 500 on Sunday by capturing NASCAR's season opener a day after his 20th birthday in an incident-packed race.
Bayne, racing in his first Daytona 500 and second Sprint Cup start, held off Carl Edwards by 0.118 seconds for the win. David Gilliland placed third at the end of a chaotic battle.
"I keep thinking I'm dreaming, I really do," Bayne said after the race while surrounded by his team. "I am so thankful for the job that these guys did on this race car. It's unbelievable. Our first (Daytona) 500, are you kidding me?"
The race, decided in the second overtime, included a track record 74 lead changes, 22 different leaders, 16 cautions and ended with some fans taking car debris home as souvenirs.
"It was 520 miles of sheer terror out there," said Edwards. "It was wild. If that was a lesser group of drivers out there it would have been really, really bad."
So unexpected was victory for Bayne that he almost missed the entrance to Victory Lane, where the winning driver heads for his celebration, that he said on his team radio he did not know what to do.
"I didn't know how to get to Victory Lane but we will hopefully find our way back there," said the Wood Brothers driver who has no victories on the second tier Nationwide Series.
Bayne was not even racing for Sprint Cup points as he does not have a full-time ride in the competition due to the lack of a sponsor - a situation that could change quickly.
There was a poignant moment near the start of the race when the crowd of over 150,000 people held three fingers in the air during a moment of silence for the entire third lap as a tribute to Dale Earnhardt.
Seven-times NASCAR champion Earnhardt died when he crashed his famous number three Chevy Goodwrench on the final lap of the 2001 Daytona 500.
There was no fairytale finish for his son, Dale Jr., whose car was towed off the track after suffering damage in a collision during the first overtime.
Five-time Sprint Cup champion Jimmie Johnson was one of a number of leading drivers effectively out of contention after a 14 car pile-up on turn three of the 19th lap.
David Ragan looked well positioned for a shot at victory when he led the pack at the start of the first overtime but he was black-flagged for changing lanes too soon at the restart.
Follow Emirates 24|7 on Google News.