Bin Drai's team clinch Diamond Polo Cup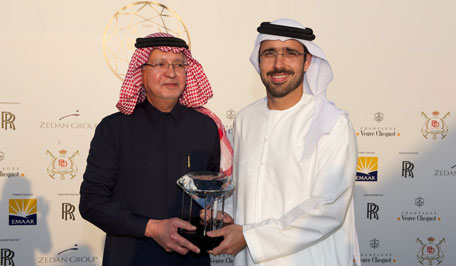 Bin Drai emerged victorious in the inaugural Diamond Polo Cup exhbition match against Saudi-based Zedan team at the Dubai Polo and Equestrian Club on Friday.
The highly anticipated clash didn't disappoint and kicked off with electric speed after Mohammed Bin Drai claimed the first goal of the match after just one minute, showing the glamorous crowds just why he is viewed as one of the region's rising polo stars.
Polo enthusiasts were treated to an exhilarating battle of four chukkas before a heady mix of speed, adrenaline and sheer determination helped Bin Drai Polo take the lead in the final chukka.
Despite a last minute team substitute, after event co-host and polo patron Saeed Bin Drai of Bin Drai Polo sustained an injury in pre-match training, all continued smoothly as younger sibling Mohammed Bin Drai stepped in to the fold.
"It was frustrating watching from the sidelines after looking forward to the match for so long," said Saeed Bin Drai, "but I am very lucky that my brother was able to take over the reins. Despite his young age, Mohammed is a very talented player and I am very proud".
The final line up included HRH Prince Hashim Bin Al Hussein, Amr F. Zedan, Alejandro Novillo Astrada and Julio Novillo Astrada representing Zedan Polo and Mohammed Bin Drai, Adriano Agosti, Eduardo Novillo Astrada and Ignacio Toccalino forming the Bin Drai Polo team.
A steady flow of VIP guests graced the red carpet, including the region's most prominent businessmen and women, socialites, celebrity guests and royalty.
While VIP guests enjoyed the lavish hospitality and entertainment, children were kept equally well-entertained curtsey of the dedicated play area run by staff of the exclusive Asya's nursery.
But the event, whose sponsors included Emaar, Veuve Cliquot and Rolls Royce, was not just about the polo. A charity auction in aid of Laureus Sports For Good Foundation raised Dh70,000 and will go towards helping societies around the world through the introduction of sport.

Follow Emirates 24|7 on Google News.