BMW end Porsche reign in Dubai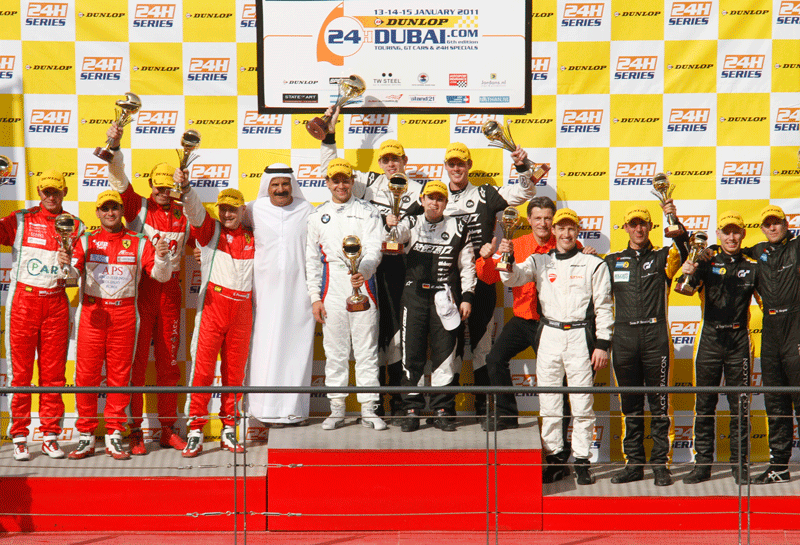 BMW ended Porsche's stranglehold on the Dunlop 24 Hours of Dubai when the Need for Speed Team Schubert BMW Z4 GT3 crossed the finish line on Saturday afternoon to claim victory for multinational line-up of Augusto Farfus from Brazil, Edward Sandtsrom from Sweden, Tommy Milner from USA and German lady racer Claudia Hurtgen.
"I really have no words at the moment. We came close to victory here two years ago, but then we had an accident in the closing stages and ended up second. Now I have finally scored my maiden victory in a 24-hour race. In that last few laps, I started hearing many strange noises, but fortunately, we were able to make it home. Fantastic," said Hurtgen who has been runner-up twice in Dubai.
Stalking the BMW throughout the 24 hours was the AF Corse Ferrari F430 team who finished second with Italian trio Eppe Perrazini, Lorenzo Case, Marco Cioci and Michel Broniszewski from Switzerland at the wheel.
Third place and final podium spot went to the Black Falcon Mercedes SLS AMG with German quartet Thomas Jager, Kenneth Heyer, Jan Seyffarth and Sean Paul Breslin doing cockpit duty.
Narrowly missing out on the podium was Emirati driver Khalid Al Qubaisi who was part of the Tolimit Arabia Porsche 911 GT3 line-up including British driver Sean Edwards, Germany's Sascha Maassen and Dutchman Jeroen Bleekemolen. The team was plagued with technical problems which cost them valuable time, however they did well to recover and finish fourth overall and best of the Porsche brigade.
"It was really good to drive this race. I know the Dubai Autodrome track very well and we had a good chance, but mechanical problems did not help us. We tried our best and just missed out on the podium," said Al Qubaisi.
The race was a battle of speed and strategy throughout the 24 hours with the top five always within a few laps of one another.
Although the rate of attrition was high there was really only one major shunt which involved the De Lorenzi Porsche 997 GT3, with Martin Ragginger at the wheel, which crashed hard into the barrier shortly before midnight, destroying the car and ending their hopes a strong result. The driver was unharmed.
Gerrie Willems, head of the Creventic organising team, said: "This was an amazing race with tension for 24 hours as the teams battled it out. For the first time there were so many manufacturers fighting for the win: BMW, Mercedes, Porsche, Ferrari and even Lamborghini. Once again Dubai delivered a fantastic race."
Dubai Autodrome Chairman Saeed Khalfan said: "It was incredible to see such top teams fighting for the win. I am particularly happy to see lady driver Claudia (Hurtgen) who finished second in 2010 and promised me she would be on the top step of the podium this year. And she was correct. Well done."
The 2011 edition of the event featured more UAE based teams than ever before. Humaid Al Masaood led HMR Aston Martin team and NFS Racing Lotus Evora finished second and third respectively in the Class SP3.
Jon Simmonds led MSW Racing Seat Leon Super Copa finished third in Class A3T.
Spencer Vanderpal led A2B Racing BMW 120D finished third in the diesel Class D1.
Both the Lap 57 Honda and Duel Racing Seat entries had mechanical problems and did not finish.
2011 Dunlop 24 Hours of Dubai results:
Overall Winners & Class A6
1. Need For Speed Schubert BMW Z4 Gt3
2. AF Corse Ferrari F430 GT2
3. Black Falcon Mercedes Benz SLS AMG GT3
Class SP3 GT4A
1. Valspar Donkervoort D8 GT
2. HMR Aston Martin V8 Vantage
3. NFS Racing Lotus Evora
Class A2
1. Auto Sport GP2 Renault Clio Cup
2. Besaplast Racing Mini Cooper S
3. Auto Sport GP1 Renault Clio Cup
Class 997
1. De Lorenzi Porsche 997
2. Autowelland MW Sportive Porsche 997
3. Uliviery Racing Porsche 997
Class A4
1. Duwo Racing BMW 130i
2. K&K Racing Valek Motorsport BMW 130i
3. Brunswick Automotive BMW 130i
Class D1
1. VW Racing Austria 1 VW Golf TDi
2. Jordans.nl Red Camel 2 Seat Leon 2.0 TDI
3. A2B Racing BMW 120D
Class SP2 GT3A
1. Bovi Motorsport Brokernet Silversting
2. Gomez Competition 2 GC10
3. Gravity Racing International Mosler MT900
Class A3T
1. JR Motorsports BMW E46 GTR
2. Sunred 1 Seat Leon Super Copa
3. MSW Racing Seat Leon Super Copa
Follow Emirates 24|7 on Google News.