British boxer Amir Khan mocks Mayweather in prank video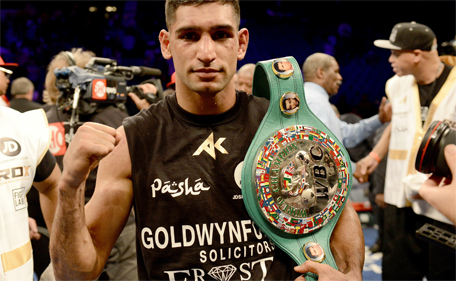 British boxer Amir Khan holidaying in Dubai has fired another salvo at American Floyd Mayweather by featuring in a prank video taunting the unbeaten world champion to force a May 2 bout.

Filipino boxing legend Manny Pacquiao may be closing in on a mega fight with the elusive pound for pound king Mayweather.

But British rival Khan who proved his welterweight pedigree by outclassing another unbeaten American Devon Alexander in December has stepped up the ante after setting a five-day deadline for Mayweather to accept his challenge.

In a video from boxing suppliers RDX which has gone viral, Khan comically dons a facemask of Mayweather and holds out a wad of money in hand.



He begins the interview by reiterating that he wants to fight the biggest name in boxing which is Mayweather. "That's what I want," insisted the two-time world champion.

Seeing the funny side, the Bolton boxer then puts one of the masks on himself, and imitated Mayweather who dismissed Khan's challenge earlier by saying Khan was "not a big enough name" for a pay-per-view event.
WATCH THIS! @AmirKingKhan prank at #RDXSports video-shoot to 'call out' Floyd Mayweather! https://t.co/SkFgfYaYkd

— RDX Sports (@RDXSports) January 15, 2015

"I'm scared of Amir Khan, I don't want to fight him. I'm running scared," says Khan before removing the mask, and snapping: "Shut up Floyd Mayweather, let's get the fight done, man. Everyone wants to see it, so let's do it."
Follow Emirates 24|7 on Google News.