Corporate Games comes to the Middle East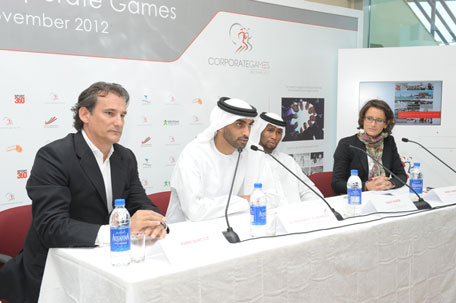 Abu Dhabi will stage the first ever Corporate Games in the Middle East from November 21 to 24, it was announced by the organisers of the event on Tuesday.
A hugely successful multi-sport event for the past 25 years in 160 countries, the inaugural edition in the UAE capital is expected to attract nearly 3,000 participations from the corporate world.
The Abu Dhabi Corporate Games will be held under the patronage of Sheikh Nahayan bin Mubarak Al Nahayan, UAE Minister for Higher Education, Mohammed Ibrahim Al Mahmoud, General Secretary of the Abu Dhabi Sports Council announced at the launch.
In addition, UAE and Al Jazira FC football star, Subait Khater, was also revealed as the official 'Sports Patron' for the Games.
Offering a choice of 16 sports for teams mainly made up from employees of businesses and companies in the UAE, and their family members, the event will be staged over a four-day 'weekend' period at venues across Abu Dhabi including: Zayed Sports City (main venue), Saadiyat Beach Golf Club, and Al Forsan International Sports Resort.
Participants can enter any of the 16 sporting events as either as a team or as an individual. In addition, there are no restrictions applied on age, gender, disability, or overall skill level, so the event is truly open to all types of competitor. To emphasise this point, organisers highlighted that the oldest competitor ever to compete at a Corporate Games' event was 89.
A statement, issued by Games Patron, Sheikh Nahayan said: "It is a great pleasure have the first corporate-based, multi-sport event, to be held in the UAE capital under my patronage. Having a long-term interest in a variety of sports, I am pleased to lend my support and urge companies across the UAE to get involved. Abu Dhabi Corporate Games represents exactly the type of initiative that the Abu Dhabi Government is committed to encouraging and supporting."
Al Mahmood added: "The Abu Dhabi Corporate Games 2012 is an excellent example of how sport can reach out to the everyday man and woman in society and encourage us all to be better people, healthier people.

"Abu Dhabi Sports Council is proud to be a supporter of the Abu Dhabi Corporate Games 2012 and hope many companies across the UAE take the opportunity to make this inaugural event a huge success."
Elaborating on why the philosophy and format of the Corporate Games has enjoyed such global appeal, Fanny Marcout, CEO of Abu Dhabi Corporate Games 2012 said: "The clue is very much in the title; it is not just a fun, festival of sport – there are real business benefits for participating companies too."
"The Abu Dhabi Corporate Games 2012 is certainly a creative way for Abu Dhabi and UAE businesses to boost employee confidence, loyalty and team spirit, and it has also proven to be a success in cities across the world for being an innovative driver for developing new business – business leads that may not have been arrived at through other 'normal' business channels, perhaps," she added.
In an Olympic year, it seems fitting that the Abu Dhabi Corporate Games 2012 will also mark the official beginning and end of the event with an Olympic-style opening and closing ceremony, including the pageantry of a 'Grand Parade of Athletes'.
There will also be a 'Games Village' where participants and spectators can go to soak up the atmosphere and festivities surrounding the event and over the weekend – including the 'Great Games Party', according to the organisers.
To become an Abu Dhabi Corporate Games 2012 competitor, the entry fee – per person is Dh495. For companies registering early, however, there is a two-stage 'Early Bird' scheme.
That means that until March 31, for every 15 employees a company signs up, they will get two additional persons entered for free. For companies signing up from April 1 to June 30, every 10 competitors registered will get the company one additional free entrant.
Follow Emirates 24|7 on Google News.