Dakar Rally: Al Attiyah wins stage as Peterhansel takes lead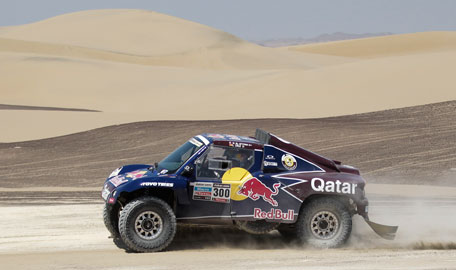 Qatari ace Nasser Al Attiyah won the Dakar Rally third stage on Monday to make it three stages from three for his Red Bull Buggy team.

The 42-year-old driver - who won the race in 2011 - moved to second in the overall standings some six-and-a-half minutes behind France's Mini-driving 10-time champion Stephane Peterhansel.

"The sand was very soft today and I decided not to go flat out because the car's very new and we still don't know how far it can go. No problems so far," said Al Attiyah, who won Olympic bronze last year in the shooting competition.

Peterhansel - who had started the day in the overall lead only for Al Attiyah's team-mate and 2010 champion Carlos Sainz to be reinstated over a technical fault the previous day - finished third in the stage while American veteran Robby Gordon was second.

Peterhansel was delighted with the day's work.

"Yet another nice stage on the attack, just like we need to, without any navigational mistakes thanks to Jean-Paul (Cottret his navigator)," said the 47-year-old, who has won the race six times on a motorbike and four times in the car discipline.

"He was perfect even in those devilishly complicated places with motorcycle tracks in every direction... But we found our way and, all of a sudden, Carlos' tracks disappeared before us, so we assumed he'd stopped due to technical problems."

The technical problems that have affected the Buggy team hit Al Attiyah at one point during the stage when he was allegedly penalised an hour which meant he dropped to 132nd and last in the car category.

However, according to race organisers this was erroneous and due to a computer bug.

The powers that be weren't so kind to Sainz as having earned one reprieve he could do nothing about his car misfiring and he dropped to fifth overall, over 21 minutes in arrears of Peterhansel.

"We looked around and saw a cable hanging in the passenger compartment," said former world rally champion Sainz.

"We reconnected it and the car got up and running again but, unfortunately, the engine continued to work in fits and starts throughout the last 60 kilometres."

Al Attiyah played his role as team-mate which cost him as he admitted some further time in eating into Peterhansel's lead.

"We won the stage and clawed four minutes back from Stephane. And it could have been even better, but we stopped for a couple of minutes to help Carlos," he said.

Another Frenchman leads in the motorcycling category in the shape of four-time winner and defending champion Cyril Despres on a KTM.

Despres, 38, didn't win the stage, that honour going to Portuguese Francisco "Chaleco" Lopez also on a KTM - the Frenchman finished third while another Portuguese rider Paulo Goncalves finished second.

Despres, who leads Lopez by 2min 51sec while Norwegian Pal Ullevalseter is third some 4min 59sec adrift, was ecstatic about his performance.

"I had a fairly good special," he said with masterful understatement.

"Nothing out of the ordinary, but I think I made significant progress in the general classification today."
Follow Emirates 24|7 on Google News.