Dh600,000 at stake in the Dubai Showjumping Championship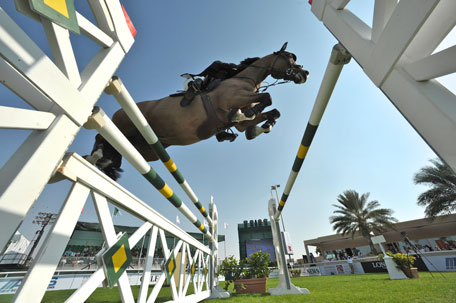 Some of the world's top showjumpers are set to vie for a share of a Dh600,000 prize fund at Emirates Equestrian Centre, when the three-day Dubai Showjumping Championship (DSJC) gets underway on January 31, 2013.

The CSI3*-W event, the showjumping highlight of the Dubai equestrian scene, is a renowned international show which attracts European jumping stars.

It also draws Gulf-based riders from the prestigious Arab League who are on the hunt for all-important FEI World Cup qualification points.

High profile DSJC sponsors, official airline Emirates Airline and official timekeeper Longines have put their names behind the event's headline classes.

These include, among others, the ever-popular Longines Accumulator, the day two Dubai Cup Grand Prix, the Emirates Airline Dubai Grand Prix, which in turn allows Arab League riders to earn valuable qualification points for the April 2013 FEI World Cup Finals.

With top showjumpers such as the EEC's FEI World Cup and Asian Games rider, Abdullah Al Marri, as well as 2010 World Equestrian Games silver medal winner and 2012 Olympic Team Bronze Medallist, Abdullah Al Sharbatli from Saudi Arabia and Ireland's returning Olympic bronze medalist, Cian O'Connor, competition is expected to be fierce.

As well as offering the best the region has to offer in terms of top class showjumping, the DSJC also provides a wealth of free family entertainment and varied dining options for both equestrian enthusiasts and those looking for a fun day out.

"Emirates is well known for being at the centre of great sporting events and this is a fine example," said Badr Abbas, Emirates Vice-President Commercial Operations, UAE.

"The Dubai Showjumping Championship also enables us to support another area we feel passionately about – the family.

"This event is for everyone, young and old, and underscores Dubai's increasingly international stature as a place for business, sport and tourism."

Walter von Känel, President of official timekeeper, Longines said: "Longines has long been a significant and long-lasting timekeeper and partner of equestrian sports.

"As the official timekeeper for all equestrian events at Meydan, we are proud to associate Longines with the Dubai Showjumping Championship this year and put our name behind the Longines Accumulator and Longines Speed Stakes."

Mohammed Essa Al Adhab, Deputy General Manager, Dubai Equestrian Club, which oversees the EEC, paid tribute to the high-class of performer that the Dubai Showjumping Championship attracts every season.

"This CSI3*-W show is the seasonal showjumping highlight at Emirates Equestrian Centre and its status is reflected in the caliber of competitors that it attracts every year," he said.

"We look forward to three days of exciting competition from some of the best horse and rider partnerships in the UAE, the wider region and the world.

"Spectators can look forward to watching UAE international riders compete for qualification points to the FEI World Cup as well as action from Olympic and World Equestrian Games medallists in a fun and family-friendly environment."

Entrance is free and there will be entertainment for the entire family including pony rides, bouncy castles, children's play area, face painting and drill rides by Dubai Pony Club as well as displays and trick riding from Z7 Entertainment. Food and beverages will also be available for purchase.

Gates open at 11:30am on Thursday January 31. On Friday February 1 the gates open at 1pm and at 11am on Saturday February 3. The EEC is located next door to Bab Al Shams Desert Resort & Spa, behind the Dubai International Endurance City.

Dining packages are also available in the luxurious Arena Restaurant starting from Dh250.

Contact the Ticket Sales Office - 04 327 2110 or ticketoffice@dubairacingclub.com for enquiries and bookings. Further information is available at www.emiratesequestriancentre.com.

Follow Emirates 24|7 on Google News.